Return to Headlines
Something New is Growing at ATMS
How does your garden grow? Do you remember that famous line from the nursey rhyme, Mary, Mary, Quite Contrary? Well, here at Thomas Middle School, there's a new twist being put on that very same line. Mrs. Stacey Allen, the ATMS Dance Company Director, is the receipient of a Climate Resilience Education Stipend from the National Wildlife Federation's Student Resilience Ambassadors Program. She then put out a call to community partners to assist with the project and Sacred Line Home Services were able to raise additional funds to almost match what was provided from the stipend!
So, what did Mrs. Allen decide to do here at Thomas? Create a garden, of course! Recognizing the lack of access to fresh foods, Mrs. Allen decided that she needed to create a space where students could contribute to reshaping not only their learning environment, but transforming their community as well. When asked about her vision for the creation of the garden, she replied, "My vision for The Cougar Oasis is to provide a space where we have a functional garden that increases biodiversity and works toward ending food apartheid, but also serves as a place of tranquility, peace, and meditation." The hope for the project is that, "[it] will be an ongoing process, but next fall we are planning a community event that will incorporate a site-specific dance work with music and art students." Mrs. Allen hopes thatThe Cougar Oasis will serve as a catalyst for better things to come for the Thomas community and families. With art, dance, and music students being involved in every step of the development process, this garden is already promoting growth here on campus. See more about her vision in this video.
The program brings the National Wildlife Federation and The Nature Conservancy together with Houston-area partners to advance climate and climate resilience education in schools. The Houston Resilience in Schools Summit connects middle and high school teachers to experts, resources, strategies and plans that will allow them to effect change on their campus and in their communities related to climate resilience and public health. In order to receive the stipend, teachers attended a special training, called a summit. After the summit, teachers were given the opportunity to submit a proposal to the National Wildlife Federation, based on the plans for a campus or community climate resilience project that they outlined during the Summit. Up to 20 teachers from different campuses received a stipend to facilitate the implementation of the project during the 2021-2022 school year.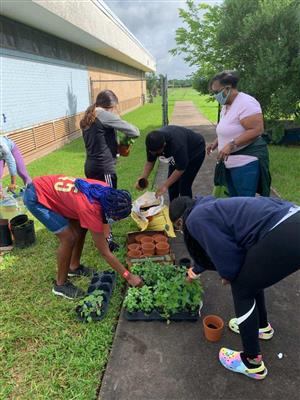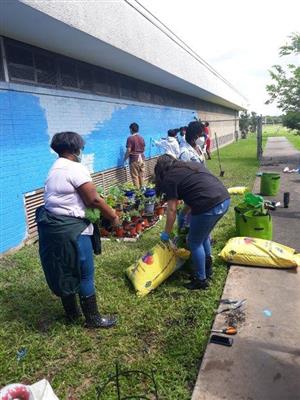 For more information on the National Wildlife Federation's Student Resilience Ambassadors Program, click here.
For more information on our community partner, Felicia Woodard of Sacred Line Home Services, click here.