Return to Headlines
Redcoats Overall Grand Champions!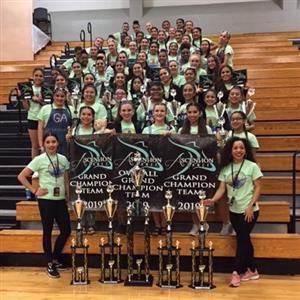 The Redcoats are once again Overall Grand Champions for the 3rd time in a row!
Our Officers, JV and Varsity teams competed in the Ascension Dance Company Regional Competition at Atascosita HS on Saturday and did a beyond amazing job!
We competed against some of following schools in certain categories; Alief Elsik, Conroe, Cypress Park, Incarnate Word Academy, La Porte, New Caney, Pasadena Memorial, Stratford, and Summer Creek.
A list of our awards below:
2nd place Contemporary large ensemble
Judges award- 90 or above for all three judges in 3 routines:
Best in class awards - Small Team Division 1:

Officers
2nd place Officer Contemporary
2nd place Officer Jazz
2nd place Officer lyrical
JV
JV Jazz 1st place
JV Novelty 1st place
JV Prop 1st place
Varsity
1st place Jazz
1st place Military
1st place Pom

Best in category - Overall Division one (Teams listed above):

1st place Varsity Military
2nd place Varsity jazz
2nd place Varsity Pom

Officers Grand champion - small team:
JV Grand Champion- JV category:

1st place (This was JV's first time competing with 3 routines at the Regional level!!)

Varsity Team Grand champion -small team division 1:

1st place (3rd time for us!)

High point awards: (Only awarded to 3 routines in the ENTIRE competition)

Varsity Military (Choreographed by Marissa Cantu-Harkless, just fyi)

Overall Grand Champion:

Varsity Team - Division 1 - no matter Team size
1st place (3rd time for us!!)
We also received awards in Showmanship, Technique, Choreography and Entertainment.
We will be wearing our Contest shirts Mon. Feb. 25th in celebration of our tremendous work and being Overall Grand Champions!!!!!
This weekend, Sat. Mar. 2nd the Varsity team will head out to Tompkins HS to compete at the STATE LEVEL!!! Wish us good luck!!!
Then for Spring Break we head to Disney World!