Return to Headlines
Heights HS did well at the Texas State German Competition
Please congratulate these students on their outstanding performances at the Texas State German Competition in San Marcos. 58 schools from across the state competed, and Heights came in 6th place among large schools and 9th place overall.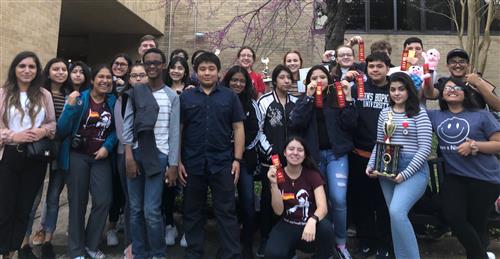 Dagny Carlsson was particularly impressive, taking 1st place in both poetry and prose reading, 2nd place in duet acting (with Ruby Guerra), 2nd place in extemporaneous speaking, 3rd in sight reading, 3rd in vocabulary, 10th in Grammar, 6th in listening comprehension and 4th in video show.
As a result of those achievements, and the cumulative points she has earned of the last two years of competition, Dagny was awarded the Mary El-Beheri State German Contest Memorial Scholarship. She was effectively crowned the best German student in the state, from among one thousand kids who came to compete.
Go Heights!
(PS- Big thanks to my colleagues Rebecca Ozuna and Brian McCafferty, for selflessly giving up half their weekend to help chaperone! They put the social in Social Studies.)
More results:
| | | |
| --- | --- | --- |
| Event | Placement | Participant(s) |
| Advantaged Speaker Test | 3 | Viviana Mann |
| Contemporary Music | 2 | Ruby Guerra , Cody Lewis, Nathalie Mujica, Sam Clakley |
| Directed Dialogue 2 | 2 | Elena Carlson |
| Duet Acting 2 | 1 | Marlyne Prado & Jessica Ramirez |
| Duet Acting 4 | 2 | Dagny Carlsson, Ruby Guerra |
| Extemporaneous 4 | 2 | Dagny Carlsson |
| Gingerbread-Non | 6 | Meliza Garcia, Carla Rodriguez |
| Grammar 4 | 3 | Carla Rodriguez |
| Grammar 4 | 10 | Dagny Carlsson |
| Listening Comp. 2 | 4 | Elena Carlsson |
| Listening Comp. 4 | 1 | Carla Rodriguez |
| Listening Comp. 4 | 6 | Dagny Carlsson |
| Poetry Memory 4 | 8 | Carla Rodriguez |
| Poetry Reading 4 | 1 | Dagny Carlsson |
| Prose Memory 1 | 2 | Yanessa Vitela |
| Prose Reading 4 | 1 | Dagny Carlsson |
| Puppet Show, Lower | 2 | Elena Carlsson, Nathalie Mujica, Miguel Mondragon, Biance Gonzales |
| Sight Reading 2 | 7 | Elena Carlsson |
| Sight Reading 4 | 3 | Dagny Carlsson |
| Skit 1 | 10 | Jourdain Babaisa, Charlie, Regalizo, Alyssa Rodriguez, Cody Lewis, Alexis Valdez, Yanessa Vitela, Chanelle Barbosa |
| Skit 2 | 8 | Jessica, Ramirez, Marlyne Prado, Efrain Lopez, Miguel Mondragon, Monzey Montemayor, Lourdes Torres, Ian Blakely |
| Skit 3 | 6 | Hasten Kamphuis, Sean Suggs, Leslie Torres, Keyla Flores |
| Spelling 2 | 1 | Elena Carlsson |
| Video Show | 4 | Dagny Carlsson, Orion Van Wagner, Elena Carlsson, Graham Hall |
| Vocabulary 4 | 3 | Dagny Carlsson |