Return to Headlines
Heights Visual Ensemble places third, earns place at WGI Regional Finals
The 2018-2019 school year has presented many challenges across the district and on campus. Members within the Heights Band Department have faced many challenges as well. In facing these challenges the members created ways to persevere, creating high levels of resiliency and excellence both individually and as a family. The Heights Visual Ensemble is the color guard section within the band. Their mission is to facilitate achievement and success through relevant involvement and realize student potential. Academic success is understood and is one of the top goals. As a sport of the arts, artistic achievement is THE goal.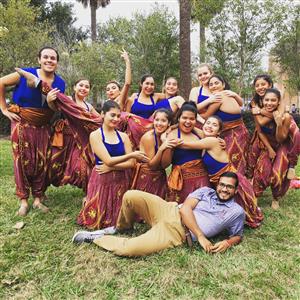 Since October of 2018, members and staff of the Heights Visual Ensemble have been studying and reading excerpts from several literary works by Virginia Woolf including Mrs. Dalloway. The members have been developing their indoor production, "Inner Monologues: Words of the Mind" which follows some conceptual elements from Woolf. The idea of words within our minds flowing to create sentences and scenarios, and how those words and thoughts break out of the mind and into the world is what they are exploring.
Over the four and half minutes of their presentation, the members demonstrate skills in equipment like flags and sabers, as well as dance and various movements, all to visually and theatrically bring their show concept to life.
They also study various types of music. This year they have been studying the minimalist music of Arvo Part, an Estonian composer of classical and religious music.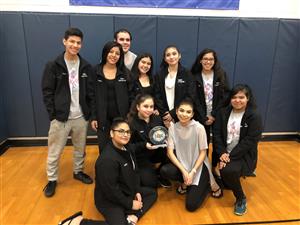 Heights Visual Ensemble (HVE) made school history in the spring of 2018 by competing at a WGI (Winter Guard International) regional for the first time - ever. This took place just one year into the revitalization efforts of the color guard and music program(s).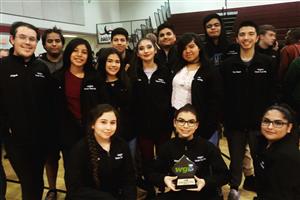 On February 9, 2019, HVE made school history again by placing third out of seven ensembles and advancing to finals for the first time at a WGI regional. Following the success of that regional, the ensemble traveled to Leander, Texas for a two-day WGI Regional at Rouse High School. The two-day regional hosted 60 color guard ensembles from across the state within several classifications. Out of the ten ensembles that competed within their classification on Saturday, HVE placed second which allowed them to advance to finals on Sunday.
Heights Visual Ensemble competed in finals on Sunday and placed third overall.
Heights Visual Ensemble is now gearing up for their stage performance set to the music of Queen at Universal Studios during spring break. To close out the competitive season, HVE will be performing an indoor production for the final time at Klein Collins High School on March 23, 2019.
Heights Visual Ensemble is currently the only color guard ensemble within Houston ISD to compete at any WGI event this year, which is regarded as the highest caliber arena for the sport of the arts. Currently, there are only 7 color guard programs in the district, with 5 competitive indoor groups.
The 2019 indoor season included performances at: Cypress Lakes H.S. in exhibition on January 19, Morton Ranch H.S. on January 26 receiving 8th place, WGI San Antonio on February 2 receiving 9th place, WGI Houston on February 9 receiving 3rd in prelims and 3rd in finals, Klein Collins H.S. on February 22 receiving 1st place, WGI Austin March 2-3 receiving 2nd in prelims and 3rd in finals.
Members of the Heights visual ensemble: Carlos Lemus, Daisy Chavez, Daniela Gonzalez, Debora Ponce, Diana Ojeda, Emily Recio, Isabella Fonseca, Jocelyn Ortiz, Brianna Ramirez, Miguel Flores, Romelia Guerrero. Floor Crew: Joel De Los Santos, Martin Camacho, Quentin Canada, Jesus Rojas, Junior Benitez, Barbara Garcia, Jacob Rivera, Elias Melara, Aaron Bourgeois.
Visual Ensemble Director: Matt Caballero
Technicians/Clinicians include: Melanie Pando, Kyle Rucker, Craig Anderson
Music Directors: Eric Jimenez, Stephen Becker, Justin Mclean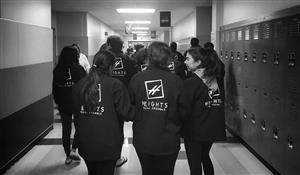 Heights Visual Ensemble will be hosting an interest meeting for the 2019-2020 school year on March 25th and April 2nd in the Band Hall at 4:15 PM, after school, snacks will be provided.