Return to Headlines
Ortiz MS Welcome Back Letter - Please review!
Welcome to Ortiz Middle School!
We are excited to have you join our Eagle family, whether you are new to our school or returning for another year of your middle school education. We have a great team of teachers ready to work hard and make it happen to help you succeed. Middle school is a time for you to excel in your classes, try a sport or art class, participate in community service, and hopefully become a life-long learner.
The first day of school is Monday, August 22nd. Please ensure your child is on time and attends school every day, dressed in their appropriate grade level dress code and backpack. Ortiz Middle School officially starts at 8:25 AM. Please do not drop students off at school before 7:30 AM. Leaving your child unsupervised before the official school start time is an issue for student safety.
Students will check the posted rosters for their 1st period Blue day class. At 8:25 AM, students will be escorted by grade level to their 1st period class and receive their schedule. Students will also receive their 1st day packet to take home. Please complete the packet and return it to school by Wednesday, August 24th.
Safety is our number one concern. To ensure students arrive at and are dismissed from school in a safe and orderly fashion, we ask that you adhere to our drop-off and pick-up procedures.
Front of the campus, on Telephone Rd (Red path): Designated area for buses and tagged vehicles only.

Side of the building, on Dillon St (Yellow path): Designated area for Car riders drop off and pick up.

Walkers are to use designated sidewalks to arrive and leave the campus.
Please follow campus procedures for Arrival /Dismissal. Campus procedures are designed to help navigate traffic, avoid accidents, and not block traffic. Do not use/stop on Telephone Rd to pick up or drop off at any time. Walkers may not cut across to campus via the streets, athletic field, or hopping the campus fence. Students will exit from the main entrance or the Dillon-side entrance at dismissal. Campus dismissal is at 4 PM daily. Please ensure to pick up your student in a timely manner.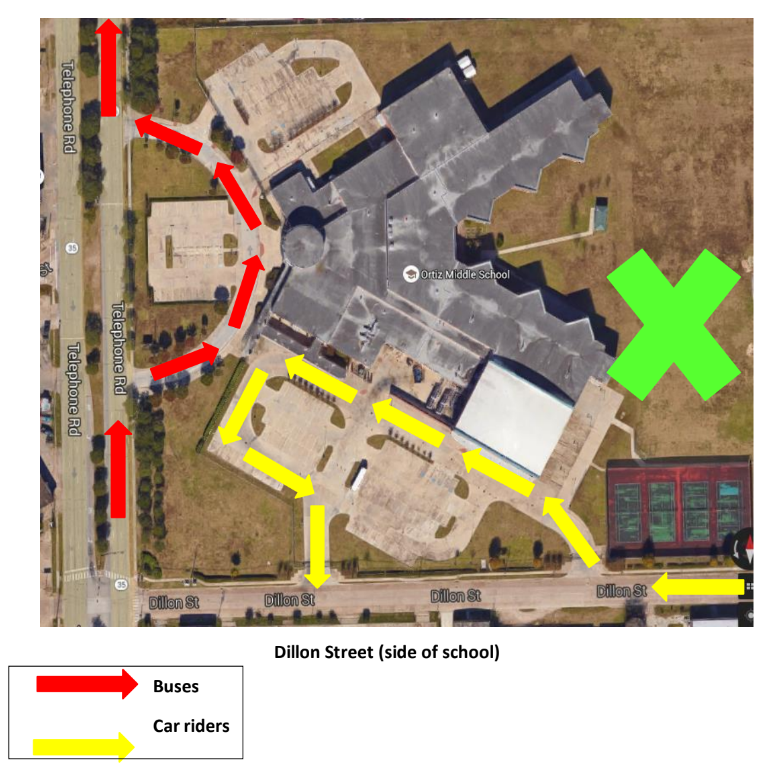 We look forward to a great first day of school on Monday, August 22nd and a wonderful school year!