Return to Headlines
On Monday, August 17, 2020, the Kinder HSPVA Band held a Virtual Band Day to get a start on building community and enthusiasm for the start of school. We had guest speakers (bios below) and interactive activities to get us talking to each other. We also had a musical show-and-tell where we played the songs that have been giving us life this summer. The favorite activity by far was where we got to meet in small groups with the other band members who played the same instrument.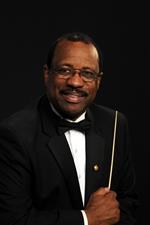 ALFRED L. WATKINS
Director of Bands (ret.)
Lassiter High School
Co-Founder, Musical Director and Conductor
Cobb Wind Symphony
Alfred L. Watkins is Co-Founder, Musical Director and Conductor of the Cobb Wind Symphony, an al-adult community band in Marietta, GA. In 2013, he concluded his 37-year career as a high school band director, serving as Director of Bands at Lassiter High School in Marietta, Georgia for 31 years and at Murphy High School in the Atlanta Public Schools for six. Mr. Watkins is a 1976 graduate of Florida A & M University with additional study in Music Education and Conducting at Georgia State University. Concert bands under Watkins' direction have performed at the Midwest Band Clinic five times, six featured band performances at the Music For All National Festival and four times at the GMEA In-Service Conference. The Lassiter Percussion Ensemble has performed twice at the Midwest Clinic and once at PASIC. The Lassiter Jazz Ensemble was twice selected as an Honorable Mention in the Essentially Ellington Jazz Band Competition (NYC) and the Lassiter Winter Color Guard was named a two-time Winter Guard International World Champions in 1996 & 1997.
The Lassiter Marching Band was the 1998 and 2002 Bands of America Grand National Champions and also won nine BOA Regional Championships. Under Watkins' leadership, the marching band also participated in four Pasadena Tournament of Roses Parades (spanning 25 years), three times in the Macy*s Thanksgiving Day Parade (NYC), twice in the King Orange Bowl Parade (FL) and once in the Florida Citrus Bowl Parade. During Watkins' Lassiter tenure, all four (or five) Lassiter concert bands received consecutive Superior Ratings from 1993 until his retirement in 2013, with the top two bands earning consistent superior ratings in Grade VI for the last 23 years. The band program is one of a few bands in America to have received both the Sudler Flag of Honor for outstanding concert bands and the Sudler Shield for outstanding marching band. Watkins has been a judge for Bands of America, DCI, concert bands, jazz bands and has served as a keynote speaker, clinician and lecturer throughout the country. He has conducted All-State Bands in 18 states and has worked with bands in 38 states
Mr. Watkins has been selected as a member of the American Bandmasters Association, the Florida A & M University Gallery of Distinguished Alumni, the Georgia Chapter of the Phi Beta Mu Hall of Fame and the Bands of America Hall of Fame. Watkins received the Edwin Franko Goldman Award from ASBDA and in December 2017, he was a recipient with the Midwest Clinic Medal of Honor. He has served as the Guest Conductor of the World Youth Wind Symphony at the Interlochen Arts Camp and has served as guest conductor of the United States Army Band "Pershing's Own" on the West Lawn at the U.S. Capitol, Washington, D.C. In 2018, Mr. Watkins was selected into the Inaugural Class as a "Midwest Clinic Legend" and currently serves on their Educational Advisory Committee. In 2018, he was the recipient of the Kappa Kappa Psi Honorary Band Fraternity's prestigious Distinguished Service to Music Medal and has recently been selected as the Phi Beta Mu International Band Director Fraternity 2020 International Bandmaster of the Year. He has received 25 Certificates of Excellence from the National Band Association, the Sudler Order of Merit from the John Philip Sousa Foundation and the Band World Magazine Legion of Honor Award. Mr. Watkins is Co-Founder, Musical Director and Conductor of the Cobb Wind Symphony (1999), an all-adult community band based in the Metro Atlanta area, which has earned the Sudler Silver Scroll Award. CWS has performed three times at the Southern Division Convention of the C.B.D.N.A./N.B.A., three times at the Midwest Clinic and four times at the GMEA In-Service Conference. At present, Mr. Watkins is one of the few conductors to hold three Sudler Awards (Flag, Shield, Silver Scroll) simultaneously. In 2009 and 2010, two doctoral dissertations were written highlighting his life and centered around his work with the Lassiter Band Program. Currently, Mr. Watkins is a Co-Founder and President of the Minority Band Director National Association, Inc., an organization charged to serve, promote, celebrate and mentor minority band directors throughout the country. He is currently an Educational Clinician for Conn-Selmer Corporation and Perform America. The $1.5 million Alfred L. Watkins Band Building at Lassiter High School bears his name.
He and his wife for 36 years, Rita, live in Marietta, GA. They have two adult sons: Christopher, a trumpeter in the United States Army Band "Pershing's Own" in Washington, D.C. and Jonathan, a businessman in Ventura, CA.
---
Guest alumni who spoke in the afternoon:
Brittany (Bri) Jiles is a percussionist and currently works as a General Music Teacher for Fairfax County Public Schools in Virginia. After graduating from HSPVA in 2011, she went on to study Music Therapy at Howard University. During her time at the Mecca, Bri performed with several university ensembles including the Community Chamber Orchestra, Symphonic Wind Ensemble, and the historic Howard University Jazz Ensemble (HUJE).
While Bri was well known through the music department for her musicianship, it was her work in the Youth Development department at the YMCA that served as motivating factor to pursue studies in music education.
Bri is currently in her fifth year of teaching at Fort Belvoir Upper School. In addition to her duties as a music teacher, Bri also serves as Specials Team co-lead and works closely with administration and the clinical team in delivering PBIS mentorship interventions to students who need it most. In her free time, Bri enjoys cooking, dancing, and spending time with her daughter, Zahrah.
Zoe Cagan grew up in Houston, TX, where the diverse cultures of the city afforded her opportunities to expand her creativity and to enrich her early music making. She attended schools and programs like The Glassell School of Art, Interlochen Arts Camp and Boston University Tanglewood Institute that specialize in training young artists. Since moving from Houston, Zoe continues to create, collaborate, teach, and perform. She held a summer internship from the American Festival from the Arts, and she held multiple teaching positions in Austin, TX including The Longhorn Music Camp at the University of Texas. From performances at The Consummate Flutist and Whole Flutes Masterclasses to an interactive/improvisatory dance and music performance series to learning how to beatbox on the flute,
Zoe is always finding new ways to grow her art.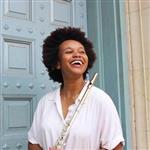 Zoe currently resides in Boston, Massachusetts where she attends the New England Conservatory and studies with Paula Robison. Her past teachers are Jennifer Keeney and Marianne Gedigian.