Return to Headlines
Coping with grief and understanding the grieving process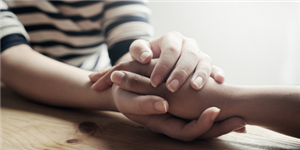 If you have lost a loved one recently or had to deal with a similar tragedy, you know that the grieving process is complicated. Often there are feelings of guilt and helplessness after the death of a loved one, but rest assured that this is a normal reaction to loss.
Grief is a natural response that requires time to resolve. There are no clear guidelines for the grief process, as each person must cope in their time and their own way. The following information is brought to you by your HISD-sponsored Employee Assistance Program, which provides support for you at no charge.
Help is available 24 hours a day, seven days a week, to you and your immediate family from ComPsyche® Guidance Resources®. Counselors are available at 833-812-5181. In-person, telephonic and limited video conferencing counseling sessions are available. All you have to do is call or go online to www.GuidanceResources.com.
Stages of Grief*
Denial and isolation: You will feel shock and numbness at first and may not believe this is really happening.
Anger: The next phase may be anger—at yourself or others. It's common to want to find someone to blame.
Bargaining: This is one way of postponing dealing with grief and may involve a conversation with your higher power.
Depression: Once the reality of the loss sets in, anger may be replaced by profound sadness, which may lead to depression and a feeling of helplessness.
Acceptance: Once you reach this stage, you should be able to move forward.
Coping with Grief
Share your feelings
Talk with someone you trust
Take care of yourself
Make daily decisions
Maintain your daily routine
Practice relaxation and meditation
Take one thing at a time
Allow extra time for tasks
Take breaks
Be patient
Common Reactions to Grief
Physical reactions: fatigue, sadness, insomnia, headaches, crying spells, or loss of appetite
Cognitive reactions: confusion, hyper-vigilance, intrusive memories, recurrent thoughts, or lack of concentration
Emotional reactions: anger, denial, anxiety, irritability, depression, apprehension, grief, or sadness
Behavioral reactions: emotional outbursts, avoidance of people, impaired performance at work, increased alcohol consumption, increased interpersonal conflicts, or decreased interest in usual activities
Dos and Don'ts During the Grief Process
Do get enough rest
Do follow a familiar routine
Do take on day at a time
Do talk to supportive people
Do exercise
Do spend time with family and friends
Do expect a range of emotions
Do contact an EAP counselor if reactions persist
Don't stay home and withdraw from others
Don't increase caffeine or alcohol intake
Don't make major decisions or life changes
Don't take on major projects
Don't have unexpected realizations regarding the healing process
Don't expect to get better in a day or two
24/7 Support, Resources & Information
Your ComPsych® GuidanceResources® program offers someone to talk to and resources to consult whenever and wherever you need them.


Call: 833.812.5181
TTY: 800.697.0353


Your toll-free number gives you direct, 24/7 access to a GuidanceConsultantSM, who will answer your questions and, if needed, refer you to a counselor or other resources.



Online: GuidanceResources.com
App: GuidanceNowSM
Web ID: HISD


Log on today to connect directly with a guidance consultant about your issue or to consult articles, podcasts, videos, and other helpful tools.
*This information was provided by the ComPsych Corporation for educational purposes only. It is your responsibility to make sure these concepts apply to your situation.