Return to Headlines
Sylvia Tristan: January 2011 Employee of the Month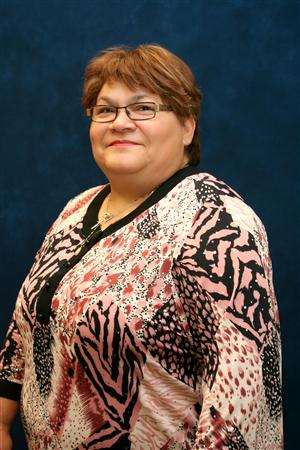 Sylvia Tristan, Employee of the Month for January, is a student caseworker at Westbury High School. She came to the district in 2005 after working with at-risk students in Corpus Christi ISD for 15 years. At HISD, Tristan has also served as a clerk in the substitute teacher office and a dropout prevention specialist at Westside High School. She accepted her current position in August of 2010.
As a student caseworker, Tristan works with teens who are struggling with attendance issues, conducts home visits to speak with their parents, and files truancy reports with the state. She also serves as a member of her school's Dropout Recovery Intervention Program committee.
Known for her compassion by students and coworkers alike, Tristan was one of the first district employees to reach out to the family of a student who accidentally drowned at Westside High School, both crying with and providing comfort to his parents, as well as helping his peers to create a makeshift memorial to their fallen classmate in her office. Tristan's dedication is such that when another student finally finished high school after completing rehab for a substance abuse problem, she was invited to the graduation ceremony by his mother.
Originally from Corpus Christi, Tristan moved to Houston in May of 2005 while her husband of 18 years, Israel, was receiving treatment for cancer. They stayed after falling in love with the area and now live in Katy. When not working, Tristan enjoys watching films, playing bingo, and visiting with two granddaughters who live here and four grandsons who live in Corpus.
"Tristan works with a singular drive and purpose, and that purpose is to keep students connected to school," said Westbury High School Principal Andrew Wainwright. "The perfect balance of no-nonsense and compassion allows her to perform her job effectively, and you can see that she cares deeply about the students. Her dedication to them and to HISD is exemplary."
"Sylvia Tristan works tirelessly to help kids within HISD," explained Westside Principal Michael McDonogh. "While at Westside, she was a primary intervention person for kids who were truant or were in jeopardy of dropping out of school. Her attention to detail and fabulous communication skills led to a nearly one percent increase in the attendance rate for the 2009–2010 school year—a giant leap for a school this size. Sylvia Tristan became a trusted member of the community and worked closely with our social workers and administration to find resources for kids in need."
"What a wonderful experience it was to work with Sylvia," added Westside clerk Cindy Moses. "Her communication skills are exceptional. With tough love, she would call students into her office to talk to them about the importance of coming to school regularly, visit them at their homes, and speak with their families to get them back in class. I sure do miss her here at Westside, but I know that wherever she is, students are coming back to school and completing their educations."