Return to Headlines
Joy Wilson: February 2011 Employee of the Month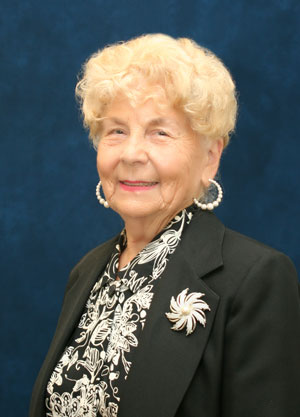 Joy Wilson, Employee of the Month for February, has been a crossing guard at Helms Community Learning Center for the past 35 years. She first began shepherding children to and from class in 1965, while working as a typist in the Welfare Division of the Texas Department of Health and Human Services.
Wilson has a long and distinguished history of serving Houston-area young people. When her children were growing up, Wilson served as a member of the Parent Teacher Association (PTA) at their schools for 21 years, earning recognition for perfect attendance over her entire tenure. She also earned Lifetime Membership status at the state level while serving as president of Cooley Elementary School's PTA in 1968, and at the national level while serving as president of Waltrip High School's PTA in 1978. In the intervening decade, Wilson also served as a board member on the HISD Council of PTAs.
Now 80 years old, she continues to work 10-hour days, dividing her time between her crossing guard duties at Helms and her volunteer work with the Boy Scouts of America (BSA), whom she has served for more than half her life. During her 43 years with that organization, Wilson has been awarded the District Award of Merit, the Cross and Flame, the Bishop's Torch, and the Silver Beaver, the highest award given to volunteers.
An amateur historian, Wilson won first place at a state competition for her book, A Brief History of Grace United Methodist Church, and her efforts led directly to the installation of a state historical marker in front of that organization. Wilson is also the author of a book on genealogy, entitled 150 Years of the Sellers Family, which was requested by both the Mormon Family History Library in Utah and the Library of Congress in Washington, DC.
Originally from Central Texas, Wilson moved to Houston in 1950. In her spare time, she enjoys photography, hunting, and genealogy.
"Although I have only been the principal of Helms for a few weeks, I immediately knew that Ms. Wilson was a treasure," said Helms Principal Diana Del Pilar. "Her warm smile and positive disposition are qualities that all HISD employees should strive to emulate. She reminds us of how important it is to express our 'joy' with great pride, each and every day."
"Ms. Wilson takes her job very seriously, with a dedication that comes from her heart," added teacher Linda Meador. "She has been a part of the Helms staff for 35 years and our school is a brighter, happier, and safer place because she is here. She makes a hot day a little cooler and a cold day a little warmer with a sincere greeting and many words of encouragement. Joy Wilson is a wonderful model of what one person can do to enrich the lives of
children. She loves her job and is motivated to make a positive difference in the day of each person that she encounters."
"Joy Wilson fulfills her duty with professionalism and love for the children and families of Helms," explains Senior Training Manager Therese Campos. "She greets students every morning and afternoon with a 'joy'-ous smile, and parents and students alike know that she will make sure they cross the busy Heights street in front of the school safely."