Return to Headlines
Tracy Elam: June 2011 Employee of the Month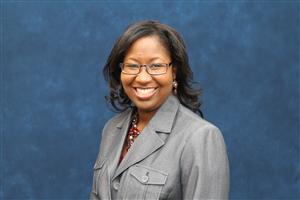 Tracy Elam, Employee of the Month for June, is a graduation coach at Furr High School and REACH Charter School. A product of HISD's Alternative Certification Program, she began her career in education as a Special Education Resource English teacher at Fondren Middle School. She has also served as a trainer with the district's Character Education program.
As a graduation coach, Elam helps approximately 400 students meet their online course requirements, evaluates transcripts to identify at-risk or gifted students, and locates resources for struggling students while encouraging them to persevere and set their own goals. She also leads "Coffee with the Principal" parent-training sessions throughout the year, and she spearheaded a drive to create a "Safe Zone" in one classroom as part of the school's anti-bullying efforts.
Originally from Plain Dealing, Louisiana, Elam moved to Houston in 1991 to become an investigator for Children's Protective Services and a life-skills trainer for young people in state custody. She holds a bachelor's degree in criminal justice from McNeese State University and a master's degree in public administration from Texas Southern University.
Elam lives in Houston with her husband of seven years, Mack, and their three children, one of whom attends Longfellow Elementary School. When not working, she enjoys reading, watching mystery shows, and chasing bubbles with her kids around her front yard.
"Tracy is first and foremost an incredible human being and a really decent person," said Furr High School Principal Bertie Simmons. "She is tireless and relentless, and she simply will not let kids fail. She establishes an excellent rapport with her students and they are very fond of her. We are extraordinarily fortunate to have her. If I could go out and pick anyone in the nation for this job, I would pick her all over again. She is simply wonderful."
"Tracy is among the most charismatic people I have ever met," adds Manager of Student Engagement Mark White. "She is clear in her objectives and translates that clarity directly to her students. My favorite part about her lab is the sign behind her desk that says, 'You will NOT fail, because I will not allow it!' The mutual confidence in her room is truly something to behold."
"Tracy has made a practice of 'reaching the unreachable' and 'teaching the unteachable,' explained Worthing High School graduation coach Craig Zeno. "She offers tough love, home truths, and pep talks on a daily basis. I have seen students approach her ready to quit school—their parents had withdrawal forms in their hands—and Tracy persuaded them to give education a second chance. She has adopted a 'never say quit' philosophy, and she seeks out the best in all students and situations."