Return to Headlines
Darryl Henderson: July 2011 Employee of the Month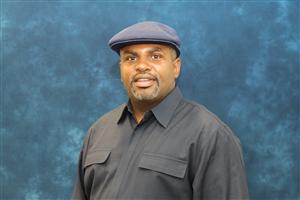 Darryl Henderson, Employee of the Month for July, is a plant operator at Woodson Elementary School.
A native Houstonian and a product of HISD, Henderson actually began his career with the district while still a student at Booker T. Washington High School, assisting Textbook Operations truck drivers with pick-ups and deliveries.
After graduating in 1986, Henderson subsequently became the lock-up custodian at Sterling High School, but he moved to Grimes Elementary School in 2003 as a plant operator after his principal secretly recommended him for a promotion.
As flattering as that vote of confidence was, Henderson says he still felt reluctant to leave a place where he had worked for 15 years. "Once I move to a building, it becomes my building," he explained. "I get attached." But Henderson's high-quality work and attention to detail continued to make such a positive impression on administrators that he was soon called upon to move again.
In January of 2011, his supervisor asked him to apply at Whidby Elementary. He did so and was immediately hired to oversee the campus' cleaning and maintenance crews. When that school's principal was promoted three months later, he agreed to go with her to Woodson, and he was worked there ever since.
Henderson lives in Houston with his fiancée, Rosslie Hall, and four of his five children, all of whom attend HISD schools. When not working, he enjoys attending church, completing carpentry projects, and spending time with his friends and family.
"Darryl Henderson demonstrates a high level of commitment, dedication, and passion," explains Whidby Elementary School Principal Roshanda Griffin. "Each decision he makes is based on the concept of 'students first.' All classrooms are clean, comfortable, and conducive to learning. Requests are attended to immediately. And he has transformed our building in the short time he was here."
"Mr. Henderson has an outstanding work ethic, and he is always there when you need him," adds Custodial Team Leader Michael Glasgow. "He stays on top of projects, and he is very self-driven, so he is motivated to take that extra step without any encouragement. In fact, he usually prompts me to help him out. He takes the initiative. That's just the way he is."
"Mr. Henderson is very committed and approaches every endeavor with excellence," says Woodson K–8 Principal Staci Taylor Fullmighter. "He understands that his job impacts the safety and success of the students we serve. At Whidby, he did a phenomenal job of getting the building up to standard, and when I became principal of Woodson, I asked for him by name. I understood the urgency of the task at Woodson and knew he would be an asset."