Return to Headlines
Mittie Jacko: September 2011 Employee of the Month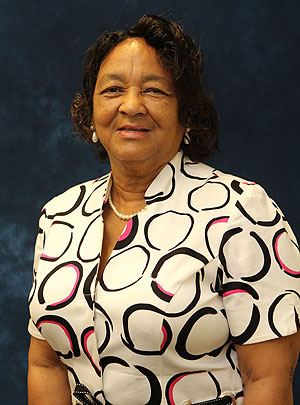 Mittie Jacko, Employee of the Month for September, has been an HISD bus driver since 1980. She works out of the Northwest Motor Pool, and currently serves students attending the Frances Harper Alternative campus and Clifton Middle School.
As a bus driver who transports students with special needs, Jacko is charged with keeping the children assigned to her safe as they board, ride, and exit her vehicle. This can involve assisting children with physical challenges in getting on or off the bus, or securing passengers in specially designed seats or with special fasteners to keep them stable while the bus is in motion.
Jacko was recognized with a Sherlock Award by the Transportation Services Department in 2011 for maintaining a perfect driving record and perfect attendance for 30 years. She retired briefly in 2005 after 25 years of service, but returned after realizing that she missed the students too much.
A native Houstonian, Jacko attended Burrus Elementary School and Booker T. Washington High Schools. When not working, she enjoys attending church services, watching her husband play softball, and spending time with her family.
"Neither rain, sleet, snow, nor even the threat of hurricanes could keep Ms. Jacko from performing her job," said former Operations Senior Manager Aaron Hobbs. "This wonderful lady has driven more than half a million miles over the past 30 years transporting students with special needs—and she has never missed a day."
"Mittie Jacko is a shining example of the best we have to offer," added Transportation Services Terminal Manager Chandra Robertson. "Our mission is to provide safe, efficient, and reliable transportation to the students of HISD. In over 31 years of driving, Ms. Jacko has never been involved in a preventable accident. In addition, her arrival at individual bus stops and campus locations has always been timely, ensuring that students are at their schools at least 15 minutes before instruction begins."
"Over the years, Ms. Jacko has patiently transported special needs students and helped ensure they receive the best possible education," explains Transportation Services General Manager Nathan Graf. "For her, it's not just about transporting kids to and from school. It's about taking an interest in them and their development. She really cares about their growth over the school year, and she helps nurture them in little ways, such as talking to them about a book they're reading, or asking for an update on a project they're working on. She treats them like family members, and parents see this and feel good about leaving their kids in her hands."