Return to Headlines
Elizabeth Najera: October 2011 Employee of the Month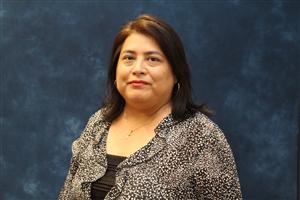 Elizabeth Najera, Employee of the Month for October, is the attendance clerk at Davis High School—a position she has held for almost 25 years. Before joining Team HISD, she worked as a billing clerk for a local printing company. Since coming to the district to more closely align her work and vacation schedules with her children's, Najera has worked tirelessly to ensure accuracy in the front office and reduce the dropout rate through diligent monitoring and mentoring.
As an attendance clerk, Najera's primary duties consist of listing absent instructors each morning, creating class rosters for substitute teachers, recording student absences, producing truancy notices, and compiling the addresses of children not in school each day so that an HISD Police Officer can conduct home visits. She also helps answer the phone in the front office. But her efforts in the school's dropout recovery initiative are what have garnered the most praise-leading some co-workers to conclude that she directly contributed to the school being visited by representatives of the U.S. Department of Education in April, for inclusion on its "Doing What Works" website.
A native Houstonian, Najera attended Anson Jones Elementary and Jackson Middle Schools before graduating from the Contemporary Learning Center in 1975. She also earned an associate's degree in the arts from Houston Community College. Najera lives in Houston and, when not working, enjoys gardening, reading mystery novels, and spending time with her grandchildren.
"Ms. Najera has helped thousands of students graduate, and Davis has a low dropout rate in large part due to her diligence," explained Principal Jaime Castañeda. "She spends hours making sure that our paperwork is accurate and she acts as a mother, grandmother, and mentor to hundreds of Davis students and teachers each year."
"I have worked with Ms. Najera for more than a decade and I consider her my right hand," added Assistant Principal Victor Okoli. "She is very competent and self-motivated, and many times, she knows what you want before you even ask for it. She is also a perfectionist, and she helps keep me organized. She brings out the best in everyone."
"There are 1,600 students at Davis High School, and Ms. Najera knows them all by name," said math teacher Ruth Kravetz. "She is not just an attendance clerk; she is also the eyes and ears of this campus, and from her desk near the entrance, she is able to keep track of students-both literally and figuratively-and she calls their parents and caregivers regularly to inform them of both successes and mistakes. She is a force of nature. "