Return to Headlines
Evelia Velazco: December 2011 Employee of the Month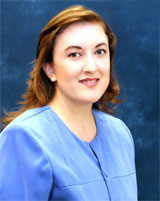 Evelia Velazco, Employee of the Month for December, is the secretary for HISD's Advanced Academics Department, a position she has held since she first came to the district in 2003.
Originally from the border town of Ciudad Juárez, Velazco graduated from the Executive Secretarial School in Dallas and relocated to Houston in 2003 after working for Dell City ISD in West Texas as the superintendent's secretary.
Now, Velazco's duties include handling payroll, ordering supplies, maintaining the department archives, scheduling training and meetings, and assisting with the department's budget. A significant part of her day is devoted to providing exemplary customer service to parents on the topic of Vanguard and Magnet programs. She also serves as the administrator of the Gifted and Talented website—a subject on which she just created a blog.
Velazco lives in Spring with her husband of eight years and their teenage son and young daughter. When not working, she enjoys reading, watching films, and making craft projects with her little girl.
"Mrs. Velazco is wonderful," said Assistant Superintendent of Special Populations Matilda Orozco. "Hard-working and efficient, she is one of the most professional people I've ever met."
"Evelia Velazco has been a vital part of Advanced Academics for years," added Former Advanced Academics Manager Tracye Wear. "As the parent of a Gifted and Talented student and a member of Team HISD, she is keenly aware of both aspects of gifted education. Her calm and patient demeanor helps appease anxious parents, and her creative problem-solving and wide-ranging computer skills make her the go-to person for the entire department."
"Evelia Velazco has a wealth of knowledge about the Advanced Academics department," explained Special Populations Specialist Brenda Pedersen. "Our department would be lost without her. And as the parent of a G/T child herself, she is uniquely qualified to assist other parents with the G/T process, answering their questions, and allaying their concerns."