Return to Headlines
School Leadership Academy (SLA)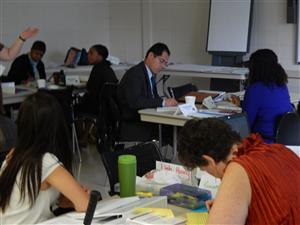 The School Leadership Academy, a year-long leadership development program, bridges the gap between teacher leader and the role of first-time campus instructional leader. The cohort is designed to identify, train, and support aspiring instructional leaders to meet the district's need for effective school leaders. The academy is open to HISD employees who currently hold or are eligible to hold the Texas Principal Certificate. The cohort curriculum focuses on preparing instructional leaders and provides opportunities to develop skills and experiences within the comprehensive course work that includes case studies, performance simulations, and job-embedded learning activities.
Purpose:
The program is designed to develop Houston ISD educators to become effective school assistant principals/deans who:
cultivate a shared vision and mission that positively impacts student learning, progress and achievement;
communicate and utilize school data to; drive instruction and accomplish school goals
establish systems to monitor and evaluate student progress toward achievement goals;
advocate for students and staff by anticipating and proactively addressing potential conflicts among stakeholders;
improve teaching and learning in schools through professional development on standards-based instruction and observation, feedback and coaching;
recognize effort, progress and achievement of stakeholders as they accomplish school goals; and

support the principal and committees of staff and parents to improve the learning, and school culture.
Eligibility requirements:
To qualify, candidates must:

- be currently employed by Houston ISD
- have a Master's Degree and hold the Standard Texas Principal Certificate or be eligible to obtain certification before the end of the program year
- provide documentation indicating completion of two years of successful campus-based instructional experience as evidenced by a summative rating of 3 or 4 on the appraisal instrument
- complete online application in Applitrack, including submission of supporting documentation
- (Link to AppliTrack: http://www.applitrack.com/houstonisd/onlineapp/)
Senior Manager, Leadership Development