Return to Headlines
Back to Campus Oct 19th Reminders: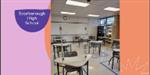 Reminders Updated Bell Schedule
Schedules: Students please get on to HISD CONNECT and take a screen shot of your schedule so we can assist you in locating your teachers and classrooms.
Head phones and Laptops: Students please bring your headphones, chargers and laptops.
Staggered Arrival: We are encouraging students to arrive spaced out.
9th grade: 8:00-8:10
10th grade: 8:10-8:20
11th and 12 grade: 8:20-8:25
Morning Locations by Grade level:
9th grade: Baseball field
10th grade: font lawn
11th grade: front lawn
12th grade: front lawn
First day back:
Yellow Tickets will be provided to every student who has had their temperature checked prior to entering the building. We will have weekly yellow ticket (students are responsible for holding on to) that will be stamped for each day of the week. On Friday, any student with all 5 days stamped will turn in their yellow ticket to their teacher and the teacher will turn the tickets into Mr. King for an attendance drawing/incentive to be announced on Monday.

Horarios: Los estudiantes por favor vayan a HISD CONNECT y tomen una captura de pantalla de su horario para que podamos ayudarle a localizar a sus maestros y aulas.
Teléfonos y portátiles: Los estudiantes por favor traigan sus auriculares, cargadores y computadoras portátiles.
Llegada escalonada: Estamos animando a los estudiantes a llegar espaciadas.
9o grado: 8:00-8:10
10o grado: 8:10-8:20
11o y 12 grados: 8:20-8:25
Ubicaciones de la mañana por nivel de grado:
9o grado: Campo de béisbol
10o grado: césped de fuente
11o grado: césped delantero
12o grado: césped delantero
Primer día atrás: Se proporcionarán Entradas Amarillas a todos los estudiantes que han sido revisados antes de entrar en el edificio. Tendremos un billete amarillo semanal (los estudiantes son responsables de aferrarse a) que se estampará para cada día de la semana. El viernes, cualquier estudiante con los 5 días sellados entregará su boleto amarillo a su maestro y el maestro convertirá las entradas en Mr. King para un sorteo/incentivo de asistencia que se anunciará el lunes.