Alicia Bejarano: March 2013 Employee of the Month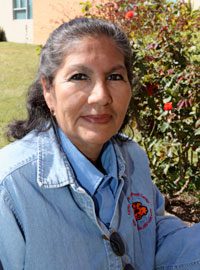 Alicia Bejarano, Employee of the Month for March, is a crossing guard at Farias Early Childhood Center, a position she has held since the school first opened in August of 2005.
When not shepherding children and their families safely to and from the school, the former stay-at-home mother dedicates herself to beautifying the campus. She leads a group of volunteers in planting flowers around Farias and fruits and vegetables in the garden during 'The Week of the Young Child' every year, and she even planted several rose bushes outside the principal's window as a gift. Bejarano has also served as a volunteer at other HISD schools since 1996.
Bajarano is a native of Mexico who moved to the United States when she was 25 years old. She lives in Houston with her husband of 33 years, Raul. When not working, she enjoys traveling, spending time with friends and family, and of course, gardening.
"Ms. Bejarano is a valued member of our school community," says Farias ECC Principal Altha Oliver. "She has kept our students and their families safe for years, but once she is finished with her morning duties, she also spends time making sure all of the plants are taken care of. And all she asks for in return is a cool bottle of water."
"Ms. Bejarano is one of the very best I have," adds Crossing Guard team lead Betty Broussard. "There are two who are always in complete uniform and never miss a day, and she is one of them. She also volunteers to do a lot of other things to help the school out."
"Mrs. Bejarano is a positive influence on our campus because everything that she does is motivated by her love for the community, the school, the Farias staff, and most especially, the children," says teacher Maria Nevarez-Solis. "Our families look forward to seeing her every day."