Enroll at Bellaire for the 2019-2020 School Year
Walk-In Registration is open from 8:00 AM - 10:30 AM Daily
You must bring originals of the required documents listed below. We ask that you bring 3 copies of each document to speed up your appointment when you come to register.
Both the student and parent or legal guardian must be present to enroll at Bellaire High School.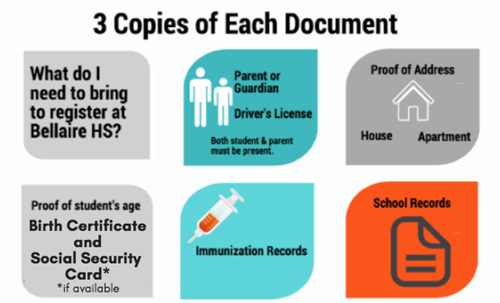 Document Details:
Driver's License
Parent or guardian must provide a copy of their driver's license. Address on license needs to match proof of address documents. Legal documents must be provided in situations involving divorce and/or legal guardianship.
Proof of Address
If living in own home, electric, gas or water bill which shows both the service address and the billing address.
If living in an apartment or leasing a house, a current, valid lease naming the parent or court-appointed guardian and student as residents. The lease must be signed by the lease-holder and the landlord/apartment manager and contain a phone number where we may contact the landlord.
Proof of Age
Birth Certificate or passport and social security card, if available.
Immunizations
Download Immunization Requirements & Medical Forms
Diphtheria/Tetanus/Pertussis - Four doses meet the requirement and the 4th dose must be received on or after the 4th birthday; 1 dose of Tdap is required.
Polio Booster – Four doses of polio; one dose must be received on or after the 4th birthday.
Hepatitis B Series - A three-dose series is required.
Varicella – Two doses are required; 1st dose of varicella must be on or after the 1st birthday.
MMR –Two doses are required; 1st dose must be on or after the 1st birthday.
Meningococcal – For 7th – 12th grade: One dose of meningococcal vaccine is required.
School Records
Final report card with promotion status from this past school year is required of incoming 9th graders.
If the student will be a 10th-12th grader, a copy of an unofficial transcript is necessary.
Students from other countries must provide school records from each year of secondary school beginning with year 7. These records must be translated and include grading scale.