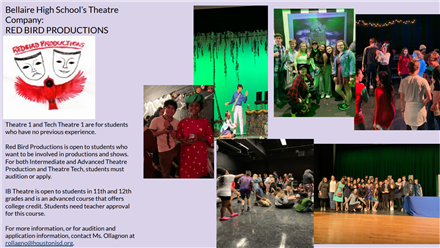 Red Bird Productions Presents:
The Distance Learning Version of Company Auditions for the 2020-21 school year
As you all know, since school is not yet happening in-person, auditions will not be able to go as planned. But that doesn't mean they can't still happen – but in a new, virtual format! We'd still love to meet you and have you join RBP.
If you are auditioning for theatre production, perform a 30-45 second monologue from a published play, plus your slate (the total should not be more than one minute) and video it.
If you are auditioning for theatre tech, create an original design (costume, set, make up, or prop) based on a scene from a published play, present it (the total should not be more than two-minutes including your slate) and video it. In your video, we want to see the full design process. From inspirations, beginning sketches to the finished product. Be sure to showcase your creation.
Please write and submit the short essay (one-two paragraphs) on what you will bring to RBP.
In addition, create a video in which you introduce yourself to us by answer the following questions. This should be under two-minutes and filmed separately from your audition video.
Who are you? State your full name, grade, and where you went to school previously.
Why RBP? Tell us why you are interested in being a part of RBP either in acting production or tech.
What do you like to do? Tell us a little about your family, other hobbies, likes and dislikes.
What theatre experience do you have? Tell us about your theatre or other arts background, if you have taken any classes, participated in productions, etc.
What is one unusual or unique thing about you? Tell us about an odd talent, something you are proud of, or interesting fact – anything.
You will upload all of these videos and share them with us. The easiest way to do this is usually to load them into YouTube as unlisted (which means you can share the link, but no one who is just roaming will find them) and then email us the links. These videos are due by September15th .
If you are planning on taking IB theatre (whether in addition to production or tech or instead of) that course requires teacher approval. Please email Ms. Ollagnon.
If you have any questions, please do not hesitate to contact any of us.