Students Returning for In-Person Instruction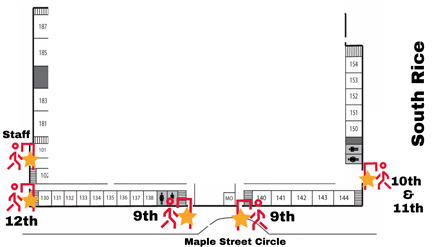 Students returning for in-person instruction for the 2nd six weeks
Before Monday morning, you should make a list of your classes that are on A Day and B Day. Using the HISD Connect App or Portal, check for the room numbers of your classes.
● Click here to find out how to access HISD Connect on the website.
● Click here to find out how to find the room number for each of your classes.
● Click here to contact faculty and staff members and more for help or questions.
We are also linking maps of the building so that you can look and see where each of your classes are located. There will be staff members in all hallways to make sure you know where to go and arrive on time.
Parking in Bellaire's lot at Maple and Ferris is limited to spaces designated for students. These spaces are located on the north side of the parking lot, and parking will be first-come first-served October 19 - December 4. If the lot is full when a student arrives they will have to find legal parking somewhere else. This policy will be updated each six weeks. At this time there is not a fee to park in Bellaire's parking lot. Any car parked on campus should have insurance and be operated by a licensed driver. Finally, we ask that each student driver register their vehicle here.
Students will enter the building through the entrances marked on this graphic. Students should bring their laptops fully charged and ready for the day. Students should also bring a pair of headphones. We will not be issuing lockers at this time as all items need to be taken home daily by students. Doors will open 8:00 AM.
● Students are required to wear a face mask.
● Each student's temperature will be taken at the entrance
● 9th graders should proceed to their first-period classroom while maintaining appropriate distance from each other. (After the first day there will be some additional areas where you can wait.)
Class transitions will begin at the end of each class period and we will come over the PA to stagger our release of students. There will be faculty and staff available to offer help as you find your next class.
During Cardinal Hour students may eat lunch in the cafeteria, the courtyard, or in the hallways of the first floor while maintaining appropriate distance from each other. A free lunch is available to all students in the cafeteria. No food deliveries are allowed for students. 11th and 12th grade students can apply for home lunch permits online here.
Once Cardinal Hour is over, students will report to Advocacy for their afternoon asynchronous learning and content hour. The classroom room number for your Advocacy class will be listed on your schedule in your HISD Connect Account.
At 4:10pm students will be dismissed and may leave through any set of doors on campus. Students should have a discussion with the person picking them up ahead of time to determine a location to be picked up.
We suggest that students bring a light jacket as some areas of the building are cooler than others. A schedule will be posted next week for freshmen and new students that are returning to campus to receive school ID's.