Graduation
The Bellaire High School Class of 2023 will graduate Sunday, June 4th at 6:00p.m. at NRG
Stadium. The ceremony will recognize the members of the class as they receive their diplomas and complete their high school education. Families and guests do not need a ticket to attend graduation. The ceremony should last no more than 2 hours.
Appropriate

Dress
Caps and gowns will be distributed on Friday, May 26 from 10:00 a.m. - 12:00 p.m. in the
auditorium. (Seniors are expected to take care of fines and other obligations and turn in their signed Senior Check Out Sheet to obtain their cap & gown.) Seniors that did not pay senior dues may purchase a cap & gown for $50. The gown should be hung on a hanger to help remove the wrinkles. The cap should have a tassel worn on the right side before graduation. Caps may be decorated with designs that are school appropriate with no political remarks, vulgar images/words. Members of the National Honor Society and IB Diploma Seniors will be wearing a stole. Only organizational cords approved by administration may be worn. Nothing is to be taken into the arena under the gown that will be brought out later to distract from
the ceremony. Seniors are not allowed to carry a cell phone with them.
Pictures

Seniors, scan to register contact information with Marc Nathan Photography. There will be a professional photographer on stage to take a picture as the diploma is presented to each graduate. Parents will be given the opportunity to purchase a copy of the picture. It is our hope that family members will be able to relax and enjoy the ceremony and not worry about taking pictures since these professional pictures will be available. Family members will not be able to go onto the floor to take personal pictures. Seniors should visit https://bit.ly/GradPicsBHS or scan the QR code below to register with the photographer. If you have questions about pictures, please contact Marc Nathan Photography tnathan@mnathanphoto.com directly. MNP will email a link to your senior when the individual images are identified the week following commencement. You may also find your graduate by scrolling all images at www.gradphotonetwork.com and using the PW BHS2023. Images are up prior to the ID process, 3-5 days after commencement and available for purchase.
Behavior of

Seniors
Seniors are asked to enter NRG carrying their cap and gown and car keys if applicable. No electronic devices will be allowed, including cell phones, cameras, or earbuds. You will be told to take these items back to your car, so do not try to take them in. HISD security will be screening all seniors as they enter the stadium. Do not bring in any prohibited items that you would not be allowed to have at school, such as pocket knives, tobacco products or e- cigarettes, alcohol etc. Being in possession of any prohibited items may result in losing your opportunity to participate in this graduation exercise. We are expecting that all members of the senior class will show appropriate behavior during the ceremony. Students who interrupt graduation exercises may be asked to leave and/or their diplomas may be withheld until a parent conference is held at a later date. All graduates are expected to stay for the entire ceremony.
Parking for Seniors, Families and Guests
Enter the NRG complex off Kirby through Entrance 9. Traffic control will route you to parking assigned for Bellaire's graduation. (Lots 22, 23, and 17) Please note that parking is $20 (card payment only). Seniors should arrive at NRG at 4:30 pm and enter through the Amegy Bank Gate. Families and guests will also enter at the Amegy Bank Gate but through a different entrance.
Parking and Seating for Individuals with Disabilities
Please follow the guidelines above. Parking for individuals with disabilities will be
available in LOT 18. Traffic Control at the stadium will route vehicles with permits to this lot. NRG Stadium is ADA Compliant and will meet the access and seating needs of our families and their guests. Please see the Parking Map for more information.
Seating for Family Members
Family members and guests will be directed to seating areas 130 and 131 in NRG. Members of the graduating class will be directed to the Service Level and seated on the floor. Families who have a number of members attending the ceremony are encouraged to arrive together. We discourage holding or "reserving" a large number of seats for late arrivals.
Audience Behavior
We ask that family members and other spectators help keep the ceremony in good taste. Horns or other items that might interrupt the graduation are not allowed into NRG. All students deserve to have their friends and family members hear their name as it is read. Students who are performing or delivering a speech deserve to be heard by everyone in the audience.
After the Ceremony Ends
After the closing, guests are invited to meet and to congratulate the new graduates outside NRG between the Ford Gate and the Amegy Bank Gate. We recommend looking at the parking and facility maps and selecting a meeting place outside the stadium.
Remember seniors will not have cell phones in their possession.
Recording of the Ceremony
The graduation ceremony will not be livestreamed (a recording of the ceremony will be made available at www.houstonisd.org/graduation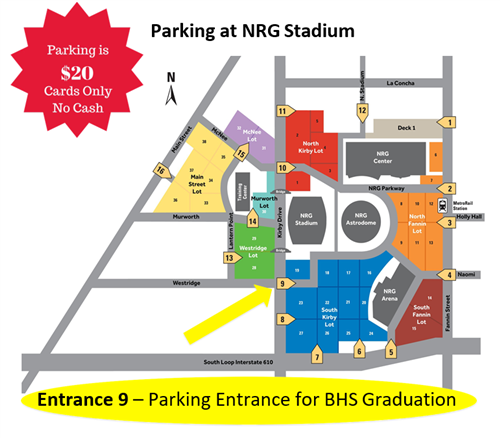 Parking
Enter the NRG complex through Entrance 9. Traffic control will route you to parking assigned for Bellaire's graduation. (Lots 22, 23, and 17) Please note that parking is $20 (Cards Only No Cash) Seniors should arrive at NRG at 4:30pm and enter through the Amegy Bank Gate. Families and guests will also enter at the Amegy Bank Gate through a separate entrance. The Graduation Ceremony starts at 6:00 pm.
Parking for individuals with disabilities will be available in LOT 18.