Junior/Senior Parking Lottery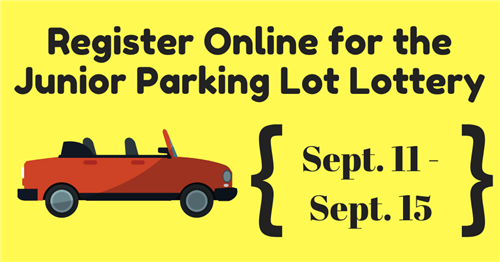 The Parking Lot Lottery is now open to Juniors and will accept student entries until September 15th. Only students with a valid driver's license, proof of insurance, and access to a car they will drive to school may enter their name in the parking lot lottery. *Please note that a student's name must appear on the insurance card as a covered driver. The fee for parking spaces is $180.
Only students that are classified as Seniors are eligible to enter the lottery. This means you must have earned 18 or more credits.
The week of August 14, students will be notified of lottery results by email. (Results of the lottery will be shared via HISD student email addresses.) The spots are non-transferrable. You MAY NOT give or sell your spot to anyone. If you decline your spot, it will be given to someone on the waiting list.
Submitting this form does not guarantee anyone a parking space. Winners will be notified the week of August 14th.
Payment and contract instructions will be sent to students via their HISD email accounts. Students that are selected in the lottery will submit their $180 payment via School Pay and keep a copy of their receipt, a copy of their insurance, and their driver's license to Ms. Frank in the Main Office.