Campus Safety and Security Update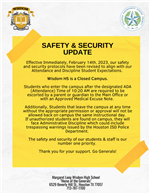 Effective immediately, our safety and security protocols have been revised to align with our attendance and student expectations.
Wisdom HS is a Closed Campus.
Students who enter the campus after the designated ADA (Attendance) Time of 10:20 AM are required to be escorted by a parent or guardian to the Main Office or with an Approved Medical Excuse Note.
The safety and security of our students & staff is our number one priority. Additional details can be found here.