Femi Afolayan: November 2014 Employee of the Month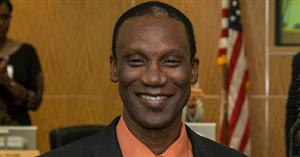 Femi Afolayan, Employee of the Month for November, is a senior account manager in the Finance Department, a position he has held since 2012. He joined Team HISD in 2009, after serving as the controller or assistant controller at a number of other organizations, including Atlanta Public Schools, Chicago Public Schools, and the Medical College of Virginia.
As a senior account manager, Afolayan is responsible for making sure HISD uses its financial resources wisely, so that money saved by increased efficiency in the areas of Food Services, Medicaid Consulting, Business Development, and the Marketplace (cafeteria) can be returned to the district's coffers and used to support initiatives such as PowerUp.
"I came from the contract management world," explained Afolayan, "so I know the ins and the outs of that industry. I used to be on the contractor side, and now I'm the client side, so I know what I want the client side to look like."
Afolayan is a native of West Africa, who came to America 27 years ago on a track and field scholarship. He lives in Houston, and when not working, he enjoys traveling, producing faith-based music, and keeping fit.
"Femi Afolayan is about the bottom line," explains Chief Financial Officer Ken Huewitt. "When he was a direct report to me, he was always about improving the quality of service we delivered. He is very bottom-line oriented, and very profit-driven."
"Femi is dedicated to HISD and very protective of the district's assets," adds Controller Sherrie Robinson. "He does an excellent job of motivating his staff and uses the knowledge gained by working for a private corporation to make sure HISD's interests are protected. He sometimes gets pushed pretty hard by our vendors because they're obviously in business to make a profit. But he knows when to push back."
"Mr. Afolayan is exceptional in the way he manages his department," says budgeting clerk Marsha Johnson. "He manages his areas as if they were making money for him personally. Each person is considered a family member, and he continues to find innovative ways to cross-train and develop his employees."
HISD Employee of the Month for November 2014 from Houston ISD on Vimeo.