Tyishca Matthews: August 2019 Employee of the Month
SAP Administrator recognized as HISD's Employee of the Month for August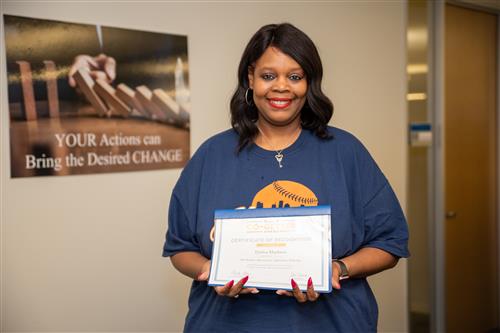 HISD brought a little sunshine indoors on Tuesday when they surprised Tyishca "Ty" Matthews in Information Technology department as the district's Employee of the Month for August.
A Workflow SAP Administrator and HISD alum, Matthews was recognized for her role as the SAP Student Internship Adviser for the department's OneSource Internship program.
"For the last five years, Matthews has become not only a great role model for the students in this program, but a person whom nearly 50 students within the program have entrusted in both their professional and personal lives," Senior Manager Tony Beuhler said.
The SAP Internship Program was started to give HISD students a hands-on learning experience for HISD's SAP System, and serves as the only program of its kind in the Houston area, introducing students to the world of information technology.
"With no children of my own, I'm humbled to be awarded and recognized in helping lead the lives of the program's students who have become like my very own children," Matthews said. "I'm very appreciative to the district for recognizing me today."
This award recognizes that Matthews goes beyond her job duties as a SAP Workflow, which earns praises from her supervisors who shares that Matthews always finds the time to make sure that every student intern gets the most out of the program.
For the 2019-2020 school year, HISD relaunched the Employee of the Month program as the "Go-Getter" award. Employees can nominate anyone serving in a non-teaching capacity such as central office staff, custodians, plant operators, secretaries, clerks and more.
To nominate someone, click here.