Weekly Updates - October 21st, 2019
Weekly Updates - October 21st, 2019
Dear Parents,
I hope everyone had a good weekend. I missed the game, but I was excited to learn that the Astros are going to the finals. Go Astros! We have a long list of items in this week's newsletter.
Email challenges: I want to personally apologize for not responding to your email in a timely manner. Recently, I have made some changes to the way I process emails, and from this point forward, I aim to respond all emails within 48 hours.
British International School of Houston field trip: It has been canceled. Our original intention was to simply expand 8th graders' high school options. It appears the interests level to this trip is low; therefore, we have decided to cancel this trip.
Character Parade: The Character Parade will be back by popular demand. This year, the character parade is on Thursday, 10/31/19. All elementary students are invited to dress as their favorite book character. Please note that the character parade is reserved for elementary students only.
Students reading to therapy dogs: MIMS is partnering with a group of local volunteers to encourage students to read more. This Wednesday, some of our 1st graders will spend a few minutes to read to therapy dogs. All volunteers are VIPS approved and the therapy dogs are professionally trained and certified. Our neighbor, St. George has been offering this program for years, and I am very excited to bring it to MIMS.
Middle School Tour for 5th grade parents: We are actively planning a middle school tour for our 5th grade families. We are such great school and we have the numbers to show. The purpose of this tour is to talk about the great things that are currently happening in the middle school and our future plans. We don't have a specific date yet, but the tour will be in November.
Bully Prevention week: Last week was HISD Bully Prevention Week. Each day we had a different theme, and I talked about it over morning announcement. Thursday's theme was posting positive, kind message, and I must say I was touched by our students' response. I took a few pictures of the board that was filled with kind, positive messages by the students, and that was only few hours after my announcement. As I was leaving this Friday, the two boards were full of kind notes. For that, I am so proud of our students.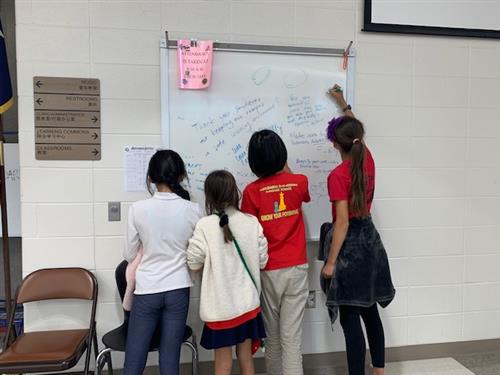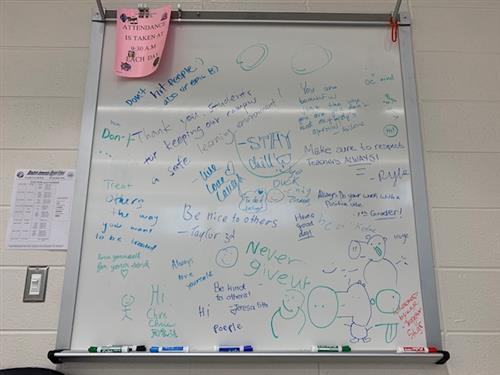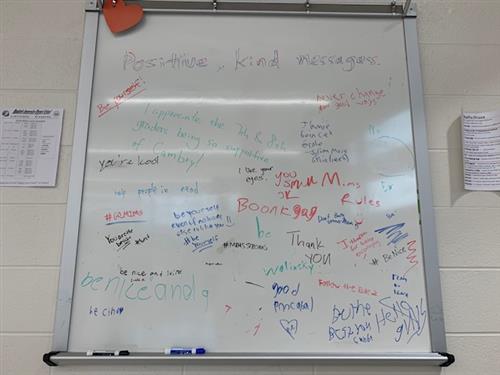 After school club coaches: Parents, thank you for volunteering your precious time and offer clubs to our students. Since my last newsletter, I have had quite a few parents stepping up and offer clubs. I have approved all clubs that submitted proper application documents. If you are on the fence about sponsoring a club, feel free to reach out to me, and I will walk you through the process.
Grandparents Day: Our make-up Grandparents Day is Friday, 10/25/19. I apologize for not able to coordinate the Grandparents Day in September, but I'm hoping our grandparents would give me a second chance and come have lunch with us this coming Friday!
Cambry's send-off pep rally: Our 8th grader, Cambry, is representing MIMS competing in China as we speak. We had a send-off party this past Wednesday. It was filled with love and joy. We wish Cambry the best of luck and bring home the trophy!
Chinese High Frequency Word Test: This is a friendly reminder. The testing window is 10/28 to 11/8.
Chinese speech competition: We are recruiting students for a Chinese speech competition. Please look for more information in tomorrow's Tuesday folder. The organizer will come to our campus this Thursday for an info session from 4:15 to 5:00.
Red Ribbon Week: This week is Red Ribbon Week. We are raising awareness by having a different theme each day this week.
Monday, Oct. 21st: Wear Boots to "Kick-off" Red Ribbon Week
Tuesday, Oct. 22nd: Wear Crazy Socks to "Put a Sock" in Drugs
Wednesday, Oct. 23rd: Wear your favorite Team Shirt to "Be on a Drug-Free Team"
Thursday, Oct. 24th: Wear Red Day to support being Drug-Free
Friday, Oct. 25th: Dress as your favorite character to "Show good character by saying NO to Drugs!
School Climate Survey: Last but not least, we want to continue to do a good job for our students and parents. Please spend a few minutes to fill out the survey here to help us improve.
Chung Ying, Principal