Weekly Updates - November 4th, 2019
November 4th, 2019 - This Week at MIMS…

Election Plan

This Tuesday is election day. Please see the following for our election plan.
• All procedures are in effect on Nov 5th only
• School hours remain the same – 8:05 AM to 3:50 PM
• Teachers and staff – please park in the side parking lot close to Yorktown st.
• Morning arrival – All students will come in the building through the Dragon door. Please drop off your child near the Dragon door
• Our parking spaces will be limited on this day
• For drop off/pick up, parents can still can drive around the parking lot as usual but expect heavy traffic
• Dismissal – follow normal procedure
• After school program staff come in the building through the dragon door
• After school programs operate as normal
• HISD police is on "Close Patrol" and will frequently stop by our campus on election day

Employees of the Month!

Congratulations to Mr. Doucet and Mr. Lupe. They are being recognized for their outstanding achievements, commitment and dedication by the HISD Facilities Department. We love you and appreciate everything you do every single day!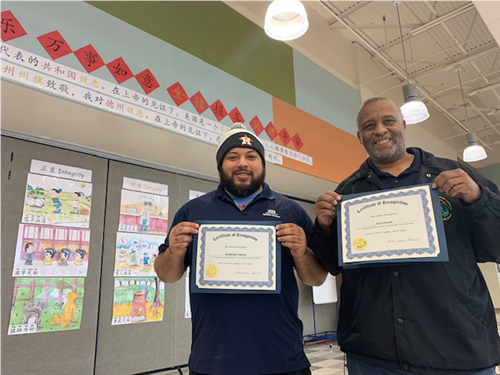 Special Thank You

Thank you, Ms. Nissa for coordinating meetings, decorating the campus, hosting magnet tours, taking pictures, and sharing your time and love with students and staff. We appreciate you!

PSAT

Our PSAT has been rescheduled to Wednesday Nov 13. Thank you, parents for your patience and understanding.
Reserved Parking for Teachers and Staff
Parents, this is a friendly reminder. Please avoid parking in the reserved parking spots. Teachers have voiced that seeing reserved parking taken by unknown vehicle adds unnecessary stress in the morning. Please help our teachers by not parking in reserved parking. Thank you!

Mr. Ying's Email

It came to my attention that some parents may not have my correct email address. My email address is chung.ying@houstonisd.org. If you sent me emails recently and have not received a response, please send your email again to the aforementioned address.

Reading to Therapy Dogs

We have started a new reading program for our first graders. Every Monday, Suzanne and her professionally trained therapy puppies will come visit our first graders to promote literacy and encourage students to read. The students get to spend 10-15 minutes reading to the dog.

School Climate Survey

This is the link to school climate survey. Please give us your feedback. This survey will be closed on Nov 8th. Thank you!