Weekly Updates - November 18th, 2019
November 18th, 2019 - This Week at MIMS…
Student Safety
Dear MIMS community,
A growing concern about student safety must be addressed. Staff parking is reserved for staff only even after school hours. Also, there is no parking available for parents in the bus zones. If you are here to visit the campus before, during, or after school, then please report to the front office to obtain a visitor's pass. The Spark Park will be closed to the community in the morning. Once a child is on campus, it is imperative that all students proceed to their expected location. Parents wishing to pick up their child must follow our community procedure. Any unidentified adult or child on campus is a risk to all students' safety. Student safety is our number one concern and we will take all necessary measures to ensure safety for all while on MIMS campus. Another letter will be sent out regarding this issue.
Boosterthon
Join us in celebrating our Boosterthon progress! We're making steady progress in registrations and some have already begun to make some sales. Let's work together to help fund passion projects for our beloved MIMS!
Election Day (Sat, 12/14/19)
We have been selected again as a polling station for the runoff election on December 14th from 7AM-7PM. We will set up voting booths in the cafeteria. The hallway leading to the main building will be closed to contain voter's foot traffic.
Thanksgiving Luncheon

Wed, 11/20 – 2nd, Kinder, 5th, Pre-K, and SLL
Thur, 11/21 – 3rd, 4th, 6th, 1st, 7th, and 8th grades

Library Open on Wednesdays

We have multiple parents and teachers expressing the need for students to access the library. Starting this Wednesday, 11/20/19 we are keeping the library open to all students during school hours on Wednesdays.

Shout Outs

Congratulations to all students who participated in UIL and won the Chinese speech competition! We would like for more students to sign-up for future competitions. Please reach out to your teacher for more information on an upcoming opportunity! As we all know, it's not about winning but it is about the journey and wonderful experiences along the way. The spirit of competition promotes fellowship, learning, and fun! The more the merrier!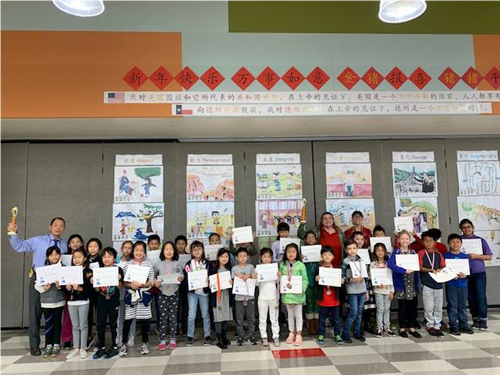 Magnet Application

Do you know anyone who wants to join MIMS? Now is the time! Please encourage all interested families to contact our magnet coordinator to learn more about application process.