Weekly Updates - February 3rd, 2020
Weekly Updates - February 3rd, 2020
Dear Parents,
It was great seeing everyone on Saturday. The weather was perfect, and I hope everyone enjoyed the food and watching students perform. Please see below for this week's newsletter.
Morning Assembly Recap
This week we sang 恭喜恭喜 (Chinese New Year song) in the morning.
We learned 投鼠忌器 - Do not burn your house to get rid of a mouse. We also watched a video that talked about how the Chinese Zodiac was created.
We reiterate the importance of personal hygiene - How to properly wash hands and wash them often.
Chinese New Year Festival, 2/1/20
Thank you, parents for coming to the Chinese New Year Festival. The event was a huge success because of your participation. We hope that you enjoyed the food and watching student's performances. Once again, we give our thanks to all parent volunteers. We thank you for planning this event, selling the tickets day and night, rain or shine, decorating the school, etc.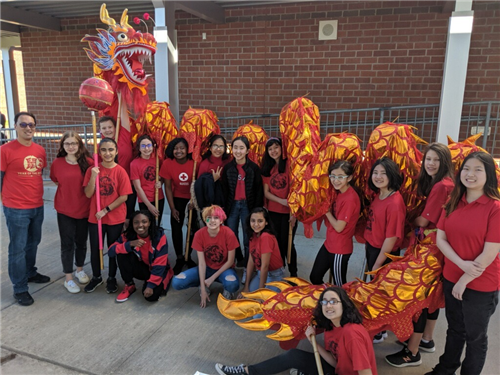 Library Reopens, 2/5/20
Thanks to teachers and Ms. Kirk for working together, we have finalized the library rotation schedule. The library will reopen this Wednesday, 2/5/2020. We will open the library two days a week to allow all students access to our library.
PTO General Meeting, 2/7/20 and Teacher Appreciation Lunch, rescheduled – new date 2/21/20
The next PTO meeting is Friday, 2/7 at 8:45. The teacher appreciation lunch (Black History Theme) is rescheduled to 2/21.
Middle School Production – "Louder, I Can't Hear You", 2/11, 2/12/20
Thanks to Ms. McGahey for working with middle school students on this performance. We proudly present Louder, I Can't Hear You. Please join us on 2/11 and 2/12 from 6:00 to 6:45 PM to watch students perform.
Camp Olympia Parent Meeting, 2/11/20
Thank you, parents for organizing Camp Olympia. The Camp Olympia parent meeting is 2/11 from 5:30 to 6:30 PM in the cafeteria.
7th and 8th Grade Girl Soccer
If your 7th or 8th grade daughter is interested in playing soccer for MIMS please contact Coach Taylor. If you have paperwork, but have not yet turned it in, please turn it in as soon as possible.
Parent Concerns Regarding Coronavirus
Some of the parents have approached the school admins and expressed their concerns about Coronavirus. The school district is aware of the situation and they are monitoring the development of this epidemic through close contact with local, state, and federal health organizations. At this time, we are addressing this concern by reiterating the importance of personal hygiene. In keeping with the on-going flu season, we ask students and staff to wash hands often, to wear appropriate clothing for the environment/temperature, to be aware of their personal well-being, and see the school nurse and/or go to the doctor if they aren't feeling well. If, or when the district receives further instructions from the local or state health departments or CDC, Houston ISD will communicate with the parents in the appropriate manner. Parents should be directed to Nurse Stubblefield with their questions.
Reserved Parking Spots
Parents, please be respectful of the reserved parking spots by not park your vehicle there. Our teachers have reserved parking so that they don't have to spend extra time finding parking spaces in the morning. Our generous donors donated thousands of dollars to improve our school, to help us provide highest quality education to our students. We thank their generosity and show our appreciation by dedicating parking spaces for them. Once again, please do not park your vehicle at any reserved parking spot.
Used Book Exchange Fair - update
We may start used book exchange by setting up a used book donation area in the library. Students may donate and/or exchange used books in the library. Tentatively, we will reopen the library on 2/5. We are finalizing the library schedule so that each teacher has a designated window to bring students to the library. More information to come.
Morning Drop Off
If you wish to walk your child to the front door in the morning, please park your car in the designated parking area; not in the fire lane.
If you wish to drop off your child and have them walk to the front door by themselves, please use the drop off lane and NOT drive through the parking lot area. You CANNOT drop off your child in the parking lot area because it is UNSAFE.
If you are in the drop off lane, please stay in the car – do not exit the car because it'll delay morning drop off.
Thank you all for your understanding and keeping all of our precious children safe.