Weekly Updates - February 17th, 2020
Weekly Updates - February 17th, 2020
Dear Parents,
I hope everyone had a great weekend! Please see below for this week's newsletter.
Yearbook:
Please continue to submit any photos you have of MIMS student activities for this year's yearbook: Chinese New Year festival and classroom celebrations, field trips, clubs, scouts, UIL and other competitions, sports, and anything else your MIMS students are doing with the school. Upload instructions are on the MIMS PTO website at http://mimspto.org/activities/pto-activities/yearbook/ or you can email photos to yearbook@mimspto.org. Yearbook sales have now closed but we will have some extra books for sale in May when the books arrive for distribution.
MIMS PTO Website:
If you have anything you want shared with the MIMS community, we recommend that you send an email to secretary@mimspto.org to have it placed on the MIMS PTO website (http://mimspto.org). We can share club and committee information, dates and events, and volunteer requests on the site.
Want to share news of your student's club or team's success? We can do that!
Want to request volunteers? We can do that!
Want to make sure your event is on the calendar? We can do that!
The board is committed to getting LivingTree up and working as soon as possible but until then, http://mimspto.org is our official means of communication. Most items are up within 24 hours of posting.
Parking
Parents, please do not park in the handicap parking unless you have the tag.
Funding lost due to absences
We had quite a few absences this past January. This is likely the result of the flu season. We need to continue to remind students to wash their hands frequently and keep their hands clean. We will also tell students to sneeze into their elbow because that'll keep the germs and bacteria contained on the cloth.
Library
The library is back in business! Students have been visiting the library and enjoy reading every chance they get! I saw this reading corner the other day and thought to myself that I must share this with the parents!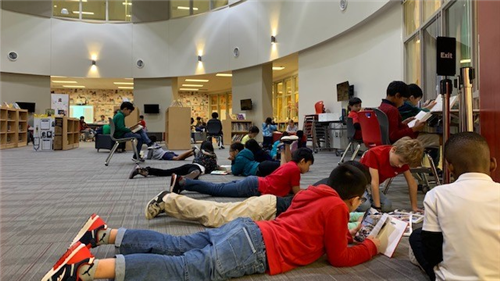 Morning Assembly
Morning assembly should resume this week. I lost my voice today and I have morning meetings on Tuesday and Wednesday. I should pick up morning assembly on Thursday.
Middle School Production - "Louder, I Can't Hear You"
Middle school play, Louder, I can't Hear You will be rescheduled. We don't have a date currently; however, we will inform the parents as soon as the new dates become available.
Reserved Parking Spots
Parents, please be respectful of the reserved parking spots by not park your vehicle there. Our teachers have reserved parking so that they don't have to spend extra time finding parking spaces in the morning. Our generous donors donated thousands of dollars to improve our school, to help us provide highest quality education to our students. We thank their generosity and show our appreciation by dedicating parking spaces for them. Once again, please do not park your vehicle at any reserved parking spot.