Weekly Updates - February 24th, 2020
Weekly Updates - February 24th, 2020
Dear Parents,
I hope everyone had a great weekend! Please see below for this week's newsletter.
Go Texan Day!
Yee-haw! Rodeo season is right around the corner, and Nutrition Services is celebrating with a traditional BBQ lunch for Go Texan Day on Thursday, Feb. 27. We'd like students and staff to participate by dressing in their cowboy gear and inviting parents to join them for lunch.
Teacher of the Year
She is an exemplary educator. Students of all backgrounds leave her class with more confidence, character, and knowledge than they realized was even possible upon entering her class. Anyone can teach a "good student" but she can teach all students. She interacts with her students on a personal level where she knows every student's likes, dislikes, and most importantly, how to help them learn. Her record speaks for itself and her effectiveness is often praised by parents. Parents, it is my honor to announce the 2019-2020 Teacher of the Year, Ms. Ya Ling Lin.
Middle School Production – "Louder, I Can't Hear You"
Middle school play "Louder, I Can't Hear You" is rescheduled to Tuesday 3/3 and Thursday 3/5 from 6:00 to 6:45 PM.
Protect Instructional Time
Parents, please refrain from requesting the front office to call your child in the middle of a class. Requests such as checking if your child has lunch money, whether your child brought gym clothes, whether your child brought homework, etc., are non-emergency and should not be a reason to stop our teachers from teaching. Our front office staff has been instructed to refrain from calling the classroom unless it is an emergency.
Primary Election
Our school is once again selected to be a polling station in the upcoming Primary Election on Tuesday, 3/3/20. With two elections under our belt, we are feeling more prepared this time. We should follow the same plan as the one in last November. I will meet with the election judge later this week. More information to come.
Morning Assembly Recap
Morning assembly is back! This week we talked about the following two idioms:
日积月累 - Accumulate day by day and month by month.
一日千里 - (Travels) a thousand miles a day; at a tremendous pace.
Teacher Appreciation Lunch (Black History Month)
Thank you, parents for cooking, decorating, coordinating the teacher appreciation lunch. It was so generous of you donating your time and delicious food. Every teacher and staff walked out of the parent preparation room with a big smile and five lunch boxes speak volumes. This was a hugely successful lunch and we really appreciate your hard work.
Yearbook
Please continue to submit any photos you have of MIMS student activities for this year's yearbook. Chinese New Year festival and classroom celebrations, field trips, clubs, scouts, UIL and other competitions, sports, and anything else your MIMS students are doing with the school. Upload instructions are on the MIMS PTO website at http://mimspto.org/activities/pto-activities/yearbook/ or you can email photos to yearbook@mimspto.org. Yearbook sales have now closed but we will have some extra books for sale in May when the books arrive for distribution.
MIMS PTO Website
If you have anything you want shared with the MIMS community, we recommend that you send an email to secretary@mimspto.org to have it placed on the MIMS PTO website (http://mimspto.org). We can share club and committee information, dates and events, and volunteer requests on the site.
Want to share news of your student's club or team's success? We can do that!
Want to request volunteers? We can do that!
Want to make sure your event is on the calendar? We can do that!
The board is committed to getting LivingTree up and working as soon as possible but until then, http://mimspto.org is our official means of communication. Most items are up within 24 hours of posting.
Funding lost due to absences
We had quite a few absences this past January. This is likely the result of the flu season. We need to continue to remind students to wash their hands frequently and keep their hands clean. We will also tell students to sneeze into their elbow because that'll keep the germs and bacteria contained on the cloth.
Library
The library is back in business! Students have been visiting the library and enjoy reading every chance they get! I saw this reading corner the other day and thought to myself that I must share this with the parents!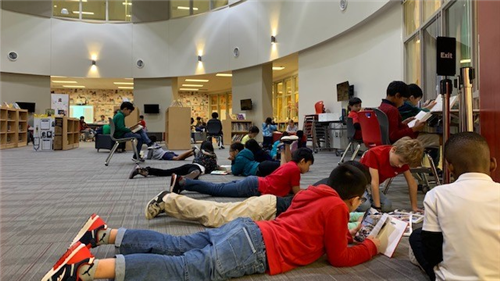 Reserved Parking Spots
Parents, please be respectful of the reserved parking spots by not parking your vehicle there. Our teachers have reserved parking so that they don't have to spend extra time finding parking spaces in the morning. Our generous donors donated thousands of dollars to improve our school, to help us provide the highest quality education to our students. We thank their generosity and show our appreciation by dedicating parking spaces for them. Once again, please do not park your vehicle at any reserved parking spot.