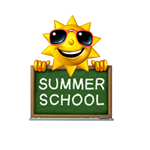 Summer School 2021 Student sign up is now open. Students can recovery up to three semesters of credit for failed courses.
Students can choose to attend virtually or in person. Most every subject will be offered.
Hours for students will be 8:45AM-2:40PM but can be shorter depending on how many classes they are taking.
Dates: June17th - July 13th
Summer School Sign up Closes May 28th. Don't miss out Sign up here today!
For questions, please contact Mr. High or Ms. Payne