YWCPA Commencement Celebrates the Class of 2021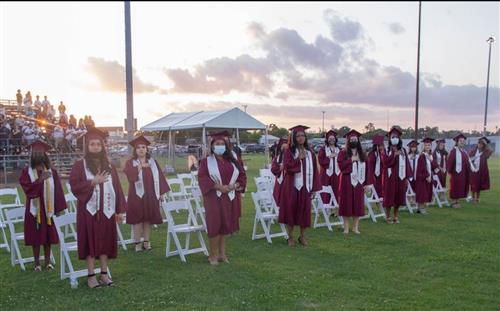 Congratulations to our 32 graduating seniors who celebrated the end of their high school careers with an in-person ceremony at Herman A. Barnett Field last Friday.
YWCPA's Class of 2021 earned more than $3.5 million in merit-based scholarships. Nearly a third of our 2021 graduates are the first in their families to graduate from high school, and 45% are the first in their families to graduate from college.
Our young women will attend Bowdoin College, Baylor University, Arizona State University, The University of Texas, University of Virginia, Tuskegee University, Tulane University, and Hamilton College...to name a few.

We are so proud of these outstanding young women!
Our graduates and their families were encouraged and applauded by keynote speaker, Dr. Shawn Emerson Simmons.
Shawn Emerson Simmons, PhD is currently the Environmental & Regulatory Manger for the ExxonMobil Sakhalin (Russia) business unit. Prior to this, Simmons led the environmental permitting efforts for the company's Gulf Coast Growth Venture, a $6 billion dollar chemical project. Simmons has led global teams as a supervisor, responsible for environmental & regulatory issues in Asia Pacific, Africa, Australia, and Europe. From 2007-2012, Simmons worked and lived in Lagos, Nigeria with her family. Dr. Simmons has a B.S. in Petroleum Engineering from the University of Oklahoma, a M.S. in Environmental Engineering from Rice University, and a PhD in Environmental Toxicology from Texas Southern University. She is a product of Booker T Washington's High School for the Engineering Professions in HISD.

Dr. Simmons is a member of Alpha Kappa Alpha Sorority, Incorporated and has served as an at-large director of the organization's foundation, as well as a member of several international committees. She has served with several non-profit organizations including Child Care Council of Greater Houston, Bayou Land Conservancy, and United Way. Dr. Simmons has received numerous accolades highlighting her advocacy for STEaM education, volunteer service, and leadership.