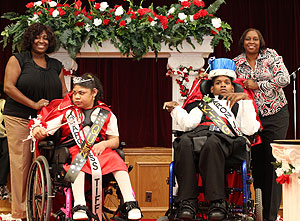 T.H. Rogers students Tiffany D'Armata (left) and Joseph Antwine were named king and queen during a coronation ceremony held as part of the Home Run Hitters Intl. program on Feb. 10. With them are coaches Oriana McMillan and Martha King.
On the baseball diamond, hitting a home run means scoring at least one additional point for your team. But at the T.H. Rogers School, hitting enough of them could also lead to a coronation.
Almost two dozen students with multiple impairments vied for the honor of being named the latest king and queen of T.H. Rogers School this year, as a part of the school's Home Run Hitters International (HRHI) program, and a coronation ceremony for the new sovereigns was held on Feb. 10.
Designed to give students with limited verbal abilities more opportunities to interact with non-disabled friends of all ages, the HRHI program challenges participants to find at least five different people with whom to complete one "home run," by identifying four ways the non-verbal students are interacting without using words (such as wiggling a finger, moving their head, or blinking).
Home Run Hitter Club members who earn 10 or more "home runs" are eligible to compete for the title of king and queen, and this year, seniors Joseph Antwine and Tiffany D'Armata received the most votes.
"High schools typically have a homecoming in the fall, but we don't have a football team," explained teacher specialist Barbara Kielaszek. "But we do have high school students here, so we just skipped the football game and went straight to the dance. We like to have our multiply-impaired students experience what their non-disabled peers would if they were at a traditional high school."
"Our kids don't often get a chance to be in the limelight, nor do their coaches, families, and care-givers," added HRHI Executive Director Deborah Carr. "So (this event) ended up being able to do a lot more than we originally thought."
The HRH coronation at T.H. Rogers was originally suggested by one of T. H. Rogers' current teachers Veralisa Waterwall. Members of the Lamar High School Junior Reserve Officer Training Corps provided escorts for the royal court, and entertainment was provided by the school's Dance Crew.