Campuses Conduct 'Talking Museums' During Black History Month
One school dedicates its program to Tuskegee airmen, who were featured in George Lucas film Red Tails
February 23, 2012
The recent release of the George Lucas film, Red Tails, made it easy for the educators at Martin Luther King Jr. Early Childhood Center (MLKECC) to decide on a theme for this year's observance of Black History Month.
Their daylong celebration, which took place on Feb. 17, was a tribute to the Tuskegee airmen who battled both racism and America's enemies during World War II.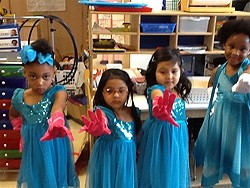 Various celebrities were featured in the "living museum."
"We wanted students to know the important role that these airmen played in the defense of America," said teacher Michelle Thomas. "So we read about them, and showed clips that explained who they were and what they did. The students got really excited about it."
The MLKECC was also one of a number of HISD campuses to conduct a "talking museum" as part of its activities, in which students dressed up as African Americans that they admired and recited details about each person's life when "activated" by a passing student or teacher.
"We had Maya Angelou, Venus and Serena Williams, Muhammad Ali, and many others," said Williams. "And every now and then, one of the 'airmen' would come through, just to remind people of the focus of our celebration.
• Click here to see how another HISD school celebrated Black History Month.