The environmental science magnet school is organized around key environmental pods: Water, Wind, Energy, Heart and Earth
April 18, 2012
Environmental awareness isn't just part of Berry Elementary's core values – it's part of the school's architecture.
Those eco-friendly features were on display recently as former principals, teachers, parents, elected officials and community leaders joined HISD Board of Education Trustee Rhonda Skillern-Jones, Chief Elementary School Officer Sam Sarabia and Principal Deborah Silber at the official dedication of James Berry Elementary School.
Skillern-Jones shared that she grew up for a time not far from the Berry campus.
"I spent around 10 years in this community, and I'm glad to see the children learning in such a technologically advanced building," she said. "I'll be back to learn some things about the environment myself."
Silber thanked the greater Houston community for its support of the 2007 Bond Program, and recognized Debra Sappington from the architectural firm Gensler for "listening from the heart" and envisioning the type of campus geared toward environmental education.
"This is not just a school - it is a community center, and it is a beacon for this community," Silber said. Every other Saturday, the campus is open for parents to use the library and participate in community garden planting. The school also offers classes to help parents learn how to speak English and use computers.
The new Berry facility is projected to have a 38 percent reduction in water use, and a 24.5 percent reduction in energy use. The district has committed to build all new construction projects to Leadership in Energy and Environmental Design (LEED) standards.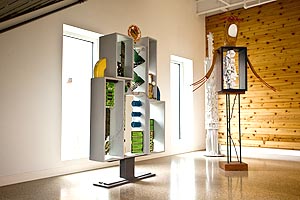 Click the photo above to see more of Berry Elementary School and the dedication ceremony.
The school, which is an environmental science magnet, is organized around key environmental pods: Water, Wind, Energy, Heart and Earth.
"This week, our fifth-graders will be doing a live chat with a NASA astronaut in our library," Silber said. "This would not have been possible in our old facility."
Attendees included Terri Thomas, board vice-president of Air Alliance Houston; Barry Ward, executive director of Trees for Houston; former Berry Principal Alicia Moreno; Miriam Saldivar of Texas State Representative Armando Walle's office; and Houston Mayor Pro Tem Ed Gonzalez. Gonzalez thanked all attendees, saying "it is nice when the school building supports educational excellence."
Native Texas trees donated by Trees for Houston will be planted to commemorate the school's official dedication. The Berry school community will also bury a time capsule, including special items developed by students at each grade level, classroom pictures, and a "letter to the future" for Berry students in years to come.
Air Alliance Houston loaned its environmental sculpture "Nomo the Eco Fish,"which was displayed at the school's entrance for the entire day. Nomo was constructed by local eco-artist Mark Bradford out of recycled materials found at the Houston Ship Channel.