Graduating Seniors Receive $3.1M in Scholarships from Project GRAD Houston
2012 figure is half a million dollars higher than last year's total
May 29, 2012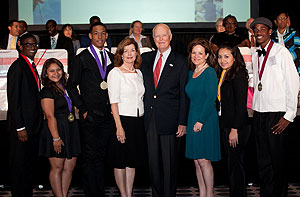 Project GRAD co-founders Kathryn and Jim Ketelsen and Executive Director Ann B. Stiles (center) pose with members of the Class of 2012: Jalen McGhee (Yates HS), Linda Narvaez (Davis HS), Ja'Markus Jacobs (Wheatley HS), Alicia Luna (Sam Houston MSTC), and Markus Sophus (Reagan HS).
Hundreds of students from five different high schools took home college scholarships worth $3.1 million during Project GRAD Houston's annual awards ceremony on May 21.
The 775 graduating seniors came from HISD's Davis, Reagan, Wheatley, and Yates High Schools, as well as the Sam Houston Math, Science and Technology Center—all of which have active chapters of Project GRAD Houston.
The theme for the evening was "From Diplomas to Degrees," which captured the intent of the Project GRAD program—to inspire scholars to continue their educational journeys beyond high school.
"With 56 percent of all jobs in Texas requiring some sort of college education by 2018, and only 34 percent of adults in Texas currently having a degree, our students' college pursuits are an investment in not only their own futures, but also in the future of Texas," said Dr. Ann B. Stiles, Project GRAD Houston's executive director.
This year's graduates join more than 6,000 other qualifiers who have paid for college with a Project GRAD scholarship since the program's inception in 1992—an investment of more than $24 million from Project GRAD Houston, the El Paso Corporate Foundation, the James P. Grizzard Foundation, LINN Energy, the Edgar and Mary Frances Monteith Education Fund, the Fayez Sarofim Education Fund, the U.S. Department of Education's GEAR UP Trust, and other community partners.