Jordan HS Senior 'Graduates' from the Same School Twice
Cynthia Carmouche also attended Jordan's Kiddie Korner child development lab as a toddler
May 29, 2012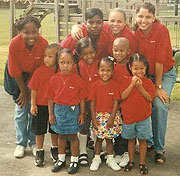 Cynthia Carmouche as a toddler at the Kiddie Korner (front row, floral skirt)
Cynthia Carmouche, a senior at HISD's Barbara Jordan High School for Careers, has a long history at her campus—she first started going there when she was just two years old.
Like many toddlers in her neighborhood, Cynthia was enrolled in Jordan's child development laboratory, then known as the "Kiddie Korner," where students in the high school's child development classes provided high-quality care and early instruction to local preschoolers for just $10 a year (to cover the cost of insurance).
Cynthia, who "graduated" from Jordan when she aged out of the Kiddie Korner in 1997, will now be an official graduate of the high school campus—as a member of the Class of 2012.
Teacher Marilyn Redd, who first came to Jordan High School in 1980 as the Kiddie Korner director, has had the pleasure of watching Cynthia grow from a curious toddler into a mature young woman. "I taught Cynthia then, and I was privileged to teach her again this year," she said. "She was a student in my child development class."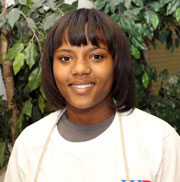 and today.
Cynthia, who also attended Houston Gardens Elementary School, Key Middle School, and the Houston Academy for International Studies, is a member of the National Honor Society. She plans to attend the University of Houston-Downtown and become a physical therapist.