Retired Westside HS Teacher Wins Texas A&M University's Inspiration Award
As a part of her prize, Anne Heil got to present the student who nominated her with a bachelor's degree
September 10, 2012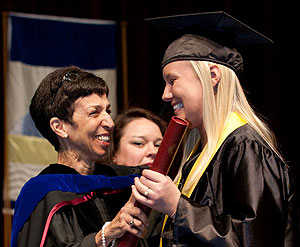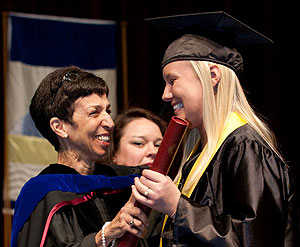 Retired HISD teacher Anne Heil presents her former student, Anna Lachner, with a college degree from Texas A&M University in May. Heil received TAMU's Inspiration Award after being nominated by Lachner, who took some of Heil's classes while a student at Westside HS. Images courtesy photographer Michael Kellett.
Each year, a number of high school teachers are usually on-hand to watch their students receive a high school diploma, but not many also get the opportunity to present one of their students with a college degree.
That's precisely what happened to Anne Heil, a retired teacher from HISD's Westside High School, when she was named one of two winners of Texas A&M University's Inspiration Award for Exceptional Secondary Education this spring.
Every year, graduating seniors at Texas A&M are invited to nominate a teacher who challenged them to excel at the collegiate level and beyond. Heil was nominated by former student Anna Lachner, who was enrolled in her Advanced Placement psychology and government classes while at Westside.
"Who knew that taking one psychology course in high school would eventually shape my entire future?" wrote Lachner in her nomination form. "If there is anyone in this world who deserves this award, it is Anne Heil. She has been my teacher, mentor, confidant, and motivator, and I am so thankful that she helped pave my way to finding my true passion in life."
As an Inspiration Award winner, Heil received a $2,000 cash prize. Westside High School will also receive a $1,000 prize, which will be used to support student projects.
"It's my former student Anna Lachner who needs to be congratulated," said Heil of the honor. "She is a delightful young lady who was dedicated to her studies but also involved in many student activities while at Westside. She graduated with honors, and over the years, I have had the opportunity to watch her grow personally and academically. We need to celebrate this young woman's accomplishments."
Texas A&M University recognizes only four recipients of the Inspiration Award each year: one in August, one in December, and two in May.