Clifton MS Turning Today's Young Men into Tomorrow's Leaders
Volunteer Caronetta Jones launches Master Plan Man's Club mentoring program


March 03, 2011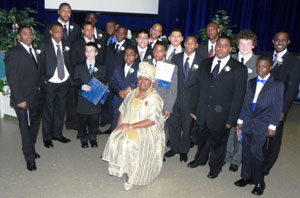 Clifton Middle School Volunteer Caronetta Jones poses with members of the school's inaugural Master Plan Man's Club.
A few months ago, longtime Clifton Middle School volunteer Caronetta Jones had an idea: what if the young boys at the school had an outlet through which they could realize their full potential and explore the future men they could become?

With the help and support of other parents and school staff members, Jones's vision has turned into a plan—a master plan.

Recently, Jones and the Clifton community inducted the inaugural members of Clifton's "Master Plan Man's Club." The club pairs each male student with a mentor at the school who will help him learn ways of building self-esteem, a positive work ethic, social skills, and the value of community service.

"I have a master plan for these young men," said Jones. "I want them all to grow up to be successful individuals who take pride in who they are and what they can achieve. With help and guidance from other positive male role models, they can become the leaders of tomorrow."

The 24 seventh- and eighth-graders who make up the club are required to see their mentor every day and keep a journal with daily entries. Twice a month, the boys will wear formal business attire, which has been donated by local business partners in the community. The goal is to have the members of the "The Master Plan Man's Club" set the standard for all young men on the Clifton campus.

All of the students chosen for the club had to fill out an application, receive a reference from a teacher, and take part in a face-to-face interview. "I wanted to become a master-plan man because it is important to lead by example," said president Jamal Miles. "We all need to respect each other and treat one another how we want to be treated."

At the induction ceremony, members were sworn in and offered words of encouragement from master of ceremonies Vincent Powell, a member of Texas Southern University's Debate Team. "It's easy to blend in with the crowd. It's easy to do the bare minimum to get by," said Powell. "But you young men are making the hard decision to become more in life, and you and your families should be extremely proud."