UT Longhorns Partner with HISD for "Kashmere Steer Week"
Program designed to provide a college experience for incoming freshmen at Kashmere HS

April 13, 2011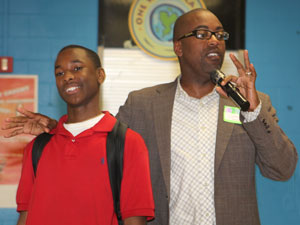 Fleming MS student Marquell Laday-Sanders with University of Texas Associate Vice President Leonard Moore at an event to promote "Kashmere Steer Week."
When Dr. Leonard Moore, Associate Vice President of the University of Texas (UT) met with eighth-grade students at Fleming Middle School, he said he was looking for someone to rap. "Give me one lyric with the words 'college' and 'education,'" he challenged the students. Marquell Laday-Sanders went to the cafeteria microphone and started free-styling. "They want me to go to school… and get an education. They say college is… my best inspiration." The lunch-time crowd started cheering; it was exactly the reaction Moore had been hoping for. He wants students to be excited about college.

On April 11, Moore visited five HISD middle schools as part of an effort to promote a college experience for incoming freshmen at Kashmere High School. The partnership with the UT Longhorns, known as "Kashmere Steer Week," will allow students to spend a week at the University of Texas during summer break. They will take classes and shadow UT undergraduates.

"You're going to live in the dorms. You can go to the rec(reation) center. You can go to the stadium. You can use the computer labs. You can go to the recording studio. You can make a movie on campus. You can do all that stuff," Moore told the students.

"It de-mystifies the college experience," he later explained. "They begin to see that it is a place where they can excel."

Kashmere Principal Paul Hardin secured grant funding to pay for the program and says it is an extension of Kashmere's efforts to prepare students for college.

For more information, contact the school at 713-631-2185.