HISD Names Teachers of the Year for 2011
Heather Gaines honored at elementary level, while Michael Clark recognized at secondary
May 26, 2011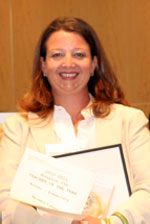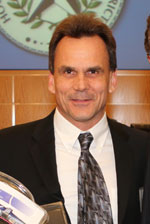 Heather Gaines and Michael Clark are the honorees for the 2011 Teacher of the Year award.
HISD's Elementary and Secondary Teacher of the Year were named tonight in a ceremony at the Hattie Mae White Educational Support Center. Heather Gaines of Lovett Elementary School was named Elementary Teacher of the Year and Michael Clark of Bellaire High School was named Secondary Teacher of the Year.
Heather Gaines has been teaching for 15 years and is currently the literacy coach at Lovett, where she has taught since 2006. She works with struggling third-, fourth-, and fifth-grade students in reading.
Michael Clark is teaching Advanced Placement (AP) courses in government and economics at Bellaire High School. He has been a teacher for 20 years, 11 of them spent at Bellaire.
"These two teachers exemplify what I mean when I talk about having an effective teacher in every classroom," said Superintendent of Schools Terry B. Grier. "They are dedicated, hardworking and they get results. Michael and Heather are the type of teachers all children in HISD schools deserve, and the district is working hard to achieve that goal."
Read the full press release
(.pdf).