HISD to Start Offering Salad Bars in Campus Cafeterias
Local produce association to help launch pilot program at three schools this fall
June 16, 2011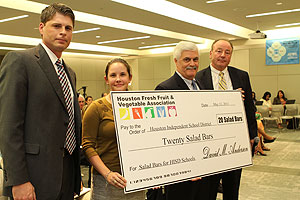 Houston Fresh Fruit and Vegetable Association President Dave Anderson (far right), along with HFFVA Board Secretary Virginia Fuller and Vice President Pierre Bucha presents a voucher for "20 salad bars" to Food Services Senior Administrator Brian Giles at the June 9 meeting of the HISD Board of Education.
This fall, students at three HISD campuses will be getting a new option for lunch in their school cafeterias—a salad bar full of healthy choices.
Houston Fresh Fruit and Vegetable Association (HFFVA) President Dave Anderson came to the HISD Board of Education's regular monthly meeting on June 9 to express his organization's long-term commitment to helping the district create salad bars in its schools, starting with at least 20 campuses in 2012.
"We were very impressed with (HISD Food Services Senior Administrator) Brian Giles' understanding of how important fresh produce consumption is for children, and this dovetails nicely with the initiatives that we undertake at HFFVA," explained Anderson.
The organization held a golf tournament recently as a fundraiser designed solely to support the creation of salad bars at HISD schools, he noted, and "we are committing to a multi-year program, beginning with 20 salad bars in 2012."
The pilot program will be launched in three as-yet-undetermined campuses this fall, with more to follow over the next few years.
The salad bar initiative is a collaboration between HISD Food Services, the HFFVA, and
Let's Move Salad Bars Back to Schools
, in partnership with the United Fresh Produce Association,
Farm to School
, and First Lady Michele Obama's
Let's Move!
campaign.