Carnegie Robotics Team Advances to VEX World Championship
Performance at Houston tournament qualifies team to compete in national, world events
December 06, 2011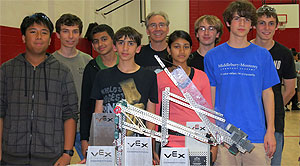 VEX Robotics team members (L-R) Andrew Nagal, Sam Dietrich, Sai Adhapapurapu, Sam McConnell, Les Ruthven (parent advisor), Ujwala Bhagavatula, David Chan (CVHS alumni), Rick Gordon, and Tucker Haydon.
The Carnegie Vanguard High School robotics team claimed three top honors at the Houston VEX Robotics tournament on November 12, by excelling at the game "Gateway" against 40 competitors.
Carnegie's team, dubbed "Cloud," earned the title of Tournament Champion, which qualifies it to compete in both the national competition and the 2012 VEX Robotics High School World Championship in Anaheim, Calif. in April. The world tournament will include top teams from more than 230 VEX Robotics Competition tournaments conducted in cities around the world from May 2011 to March 2012.
The Carnegie team was also named Robot Skills Winner—a credit to driver Tucker Haydon—and Programming Skills Winner under the leadership of Sam Dietrich and Rick Gordon. At the time scores were posted, the team's performance placed it fifth worldwide for both robot and programming skills. World rankings will continue to change as subsequent tournaments announce their results.
Other contributing robotics team members present included freshmen Andrew Nagal, Sai Adhapapurapu, Sam McConnell, and Ujwala Bhagavatula. Carnegie alumnus and current Rice University student David Chan mentors the team, and Carnegie parent Les Ruthven is the coach. Team members not present included seniors Aaron Schaer, who helped program the VEX robot, and Hakeem Henson, robotics club president.
"This is really big stuff," said Ruthven. "The Carnegie robotics team qualified for and attended World last year, but this year's robot is even better. We're very excited. These kids are great."
Primary partners in the VEX Robotics Tournaments include Autodesk, EMC Corporation, NASA, Northop Grumman Corporation, and the FUTURE Foundation.