Parents Using New Curriculum Resources to Support Student Learning
Parents Using New Curriculum Resources to Support Student Learning
Scope and Sequence, Pacing Calendar, other documents allow parents to monitor children's progress

November 12, 2012
When Mike Tauser's daughter came home from Helms Elementary School one day saying she was having trouble memorizing the multiplication tables, he thought back to something he'd learned recently from HISD Curriculum Manager Dana Enriquez-Vontoure about what third-graders were expected to know.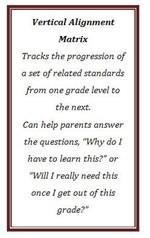 "We had a conversation with the teacher the next day," said Tauser. "[The Vertical Alignment Matrix] gave me an idea of what my kid is supposed to be learning and helped me to be educated in talking to the teacher."
The Vertical Alignment Matrix is just one of the new resources the Curriculum Department had made available to parents this year. Others include Scope and Sequence, Pacing Calendars, and Literacy and Numeracy Blueprints. All are designed to give parents a working knowledge of what their children are learning at any given time, when they should be learning it, and how it relates to other subjects or advanced concepts they will be studying later.
In the third grade, noted Tauser, the emphasis is less on knowing the multiplication tables by heart than it is about understanding the concept and being able to show the process using blocks or other items. So he told his daughter not to worry, as she should not be tested on memorizing the tables.
"It's hard enough for students to learn math," he explained, "but if she's not going to be the next Albert Einstein, we don't want her to hate it because she got pushed too early."
Natasha Heard, another Helms ES parent, said that she uses the documents a bit differently. "I have a son, and all he talks about is soccer and recess," she said. "So this helps me. I can say, 'Are you learning addition and subtraction? Are you are you making a diagram of it?' I'm more aware of what he should be doing and what the teacher should be teaching."
Heard cited her favorite resource as the Pacing Calendar, noting "it is well-laid-out and easy to read."
To learn more about the new resources, please visit the Curriculum website.

SOURCE https://www.houstonisd.org/HISDConnectDS/v/index.jsp?vgnextoid=41cbe6d77e5fa310VgnVCM10000028147fa6RCRD&vgnextchannel=051bdfb83de94310VgnVCM10000028147fa6RCRD