District Science Fair Makes a Comeback in HISD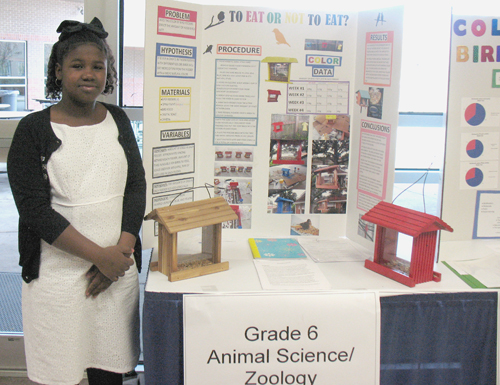 About 150 students from more than a dozen HISD schools came to the Wheatley High School campus on Jan. 19 to celebrate the return of the district's annual Science Fair.
The event was resurrected through a partnership between HISD's University Interscholastic League (UIL) and Science Curriculum Departments after a brief hiatus.
UIL Manager Don Hernandez, who also serves as the HISD manager of Houston Urban Debate League and Fine Arts activities, said the goal in bringing the Science Fair back was three-fold: 1) encourage and inspire our students to pursue advanced scientific scholarship, 2) to provide sixth-graders with a chance to participate (since there is no venue for them at the city level), and 3) to give all participants a chance to refine their projects before the citywide meet.
"For a while, we just relied on the citywide science fair to address this need," he said, "but that event is so large, you really have to be in the top one percent to receive any recognition. And we just thought, 'OK, we're a big enough school district that we can do this.'"
Students could choose from among 13 different categories (such as chemistry, animal science, physics, and engineering) in seven different age divisions at HISD's Science Fair. Based on total points accumulated, T.H. Rogers was named the top middle school, and DeBakey was named the top high school.
"The best part was that no one school seemed to dominate this year," Hernandez said. "Students from practically every participating school got prizes, and I anticipate considerable growth, now that we've got the first year under our belt."