Tonyia Smith: August 2013 Employee of the Month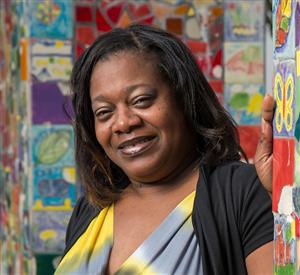 Tonyia Smith, Employee of the Month for
August
, is a student information representative at MacGregor Elementary School, a position she has held since last fall. She first came to the district in 1999 as a teacher's aide at Lockhart Elementary School, but she has also served as a clerk in the Transportation Services' Butler Motor Pool.
As a student information representative, Smith is responsible for maintaining all of her campus' student data, generating report cards, and ensuring that coding is correct on school records for funding purposes. She also works with the truancy officer to check up on students who have missed several consecutive days of school without notice and provides parents with printouts of children's transcripts for registration at middle schools.
A native Houstonian, Smith attended Bastian and Lockhart elementary schools, Ryan Middle School, and Jones and Yates high schools. She lives in Houston with her husband of 14 years, Darryl. When not working, she enjoys reading, singing in the church choir, and trail riding with the 4-L Riding Club.
"Having Ms. Smith on staff has been a definite bonus this year," says Principal Patricia Allen. "It seemed like she knew everything, because she was the backup SIMS clerk at Lockhart. But she is a real self-starter. Everything she didn't know, she learned."
"Ms. Smith makes sure that students on the honor roll or with perfect attendance receive special little incentives (such as coupons for free pizza or slushees at local retailers) that are sent to the school," says MacGregor Elementary School associate teacher Tiffany Spurlock. "This encourages allstudents to improve their grades and come to school every day. She also makes sure you not only have the answer to your question, but that you know where and how to find additional resources in the future. She is just awesome."
"I've only known Ms. Smith for about a year, but she fits in with us perfectly," said magnet coordinator Melony Makey. "She is very friendly and compassionate with parents and students…with everybody really, so it seems like she's been with us much longer. Ms. Smith is a real go-getter, too. She's not someone who waits around to be told to do things. When you mention a task or an issue that needs to be addressed, her usual response is that she has already taken care of it."