Byron Thurmond: October 2013 Employee of the Month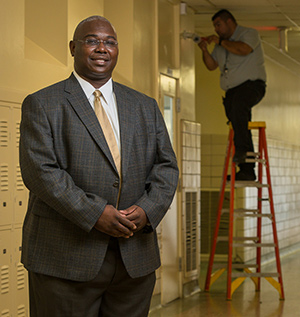 Alarm Communications Manager Byron Thurmond has been named the HISD Employee of the Month for October, but you'll have a hard time convincing him he deserves the honor.
"I told my staff that I didn't want to accept it," he said. "Because we have so many great employees who deserve it more, and nobody on my staff works [only] a 40-hour week. That's just the starting point, and it goes up from there."
Thurmond joined Team HISD straight out of high school in 1982 as a helper in Alarm Communications, and over the years, he has also served as a dispatcher, technician, and supervisor. In 1989, he was promoted to his current position, and he has led that department ever since.
As the manager of Alarm Communications, Thurmond oversees a crew of about 35 people who provide service and support for all of the electronic property and life-safety equipment in district facilities, including radios, bells, clocks, fire alarms, security systems, intercoms, fire extinguishers, locks/doors, and card-access systems. He also serves on the district's Threat Assessment Committee.
Thurmond is a member of the Texas Burglar and Fire Alarm Association, the National Burglar and Fire Alarm Association, and the Automatic Fire Alarm Association. In April, he was asked to serve as a panel member at the National School Plant Management Association on the subject of safety and security. Thurmond discussed how the standardization of products (e.g. having only one type of fire alarm, one intercom, one burglar alarm, one camera system, etc.) can increase efficiency in an organization and decrease both stock and the need for retraining.
A native Houstonian, Thurmond attended Bastian Elementary and Attucks Middle schools before graduating from Jones High School in 1981. He lives in Houston with his wife of 27 years, and when not working, he enjoys "the three 'F's": family, football, and fishing.
"No one can outwork Mr. Thurmond," says Internal Communications Specialist Larry Leonard. "He is a living example of getting it right the first time. He is always on top of the 19 crafts that his staff manages each day. Even when he is on vacation, he is with the department by phone and email to make sure students have a safe environment."
"I think one of the most impressive things about Mr. Thurmond is his length of service," said General Manager of Facility Services Joel Falcon. "He's been able to rise up through the ranks in one area of expertise to the point that even folks from the Houston Fire Department and other entities rely on him for his knowledge of the layout of the district as it relates to cameras, burglar alarms, and access to the buildings. He's been a real asset."
"Over the past few years, all of HISD has faced budget reductions, and Mr. Thurmond's group was no exception," said Senior Manager of Administration Eugene Salazar. "But even with less man-power and an increase in the amount of equipment to maintain, there has not been a decrease in the level of service. With limited resources, Mr. Thurmond makes sure most, if not all, of his staff are cross-trained in the various crafts under his management, and his entire team is always working and moving with a sense of urgency. Mr. Thurmond takes pride in the level of professionalism he and his team always maintain."