Teen Author Motivates HISD Middle School Students
Brandalyn Gill visits Cullen MS and Woodson K-8
October 26, 2011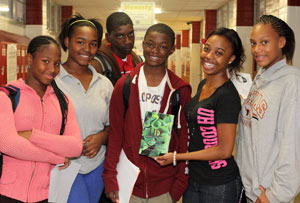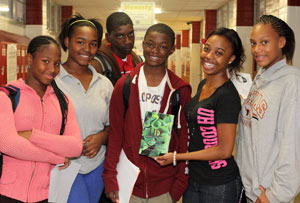 When Brandalyn Gill talks to students in the hall at Cullen Middle School, it might be difficult to pick her out as an 18-year-old college junior. She looks as though she could be talking to a group of friends in between classes, and those who know her say that's exactly what makes her message so effective. Gill is a motivational speaker. She recently published a book called, Life, and she is challenging HISD middle school students to focus on their studies and pursue their goals.
"We came to win, right Cullen?" Gill asked students during an assembly. "When I think about winning, I think about blocking out all the noise." She encouraged students at Cullen and Woodson K-8 to ignore distractions, including the voices of naysayers and feelings of self-doubt. Gill considers herself a role model for African-American students, and says she was inspired to visit HISD schools by Board of Education President Paula Harris and Superintendent of Schools Terry B. Grier.
"I tell the students that they need to enter a responsibility phase and say, 'This is my life, these are my dreams, no matter what is happening, my hardships, my ups and downs around me, this is my responsibility to make the most out of what I have." Now a student at the University of Houston, Gill graduated from high school at the age of 15. She says she has been able to convert her own challenges into a positive format, and stressed that goal-setting starts with a good education.
"She had confidence in herself and confidence in us to succeed," seventh-grade student Destiny Daniel said. She and other students enjoyed the high-energy performance. Gill jumped across the stage and fired questions at the crowd. "I feel myself connecting because I see students who are aspiring to be something," Gill said. She is currently looking for underwriters and sponsors for the "This is My Life" program. For more information, call 832-353-8119.