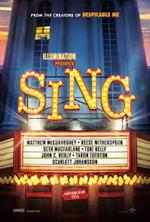 On October 29th, we will be having an outdoor movie night and silent auction to raise money for our new STEAM Lab. The movie playing will be "SING"! We will also have a Costume Parade. In line with this years' school motto, the theme of the evening will be "Dream Big". We encourage you to dress up as something you DREAM of, whether that's being a firefighter when you grow up, or you dream of unicorns and mermaids! The sky is the limit!
This will be a great opportunity to gather safely outside and enjoy activities with fellow Bush families. We will have bounce houses, snacks, pizza and goodies available for PRE-ORDER. This event is limited to 500 people, so please purchase a ticket in advance on our website. Get your tickets and pre-order your pizzas and popcorn!
The Silent Auction will open online this Friday. Be sure to sign up for our e-blast and follow us on social media to see sneak peeks of what we have to offer! The auction will close at 6:30 p.m. on October 29, before the movie begins. Winners will be notified that evening.
Timeline of Events:
5:00 Early Bird Entry for Bobcat Level PTO members
(Adult must wear spirit shirt:
In-person Silent Auction Opens
5:15 Gates open for general admission
6:00 Costume Parade
6:30 Silent Auction Closes
7:00 Movie Begins
8:50 Movie Ends